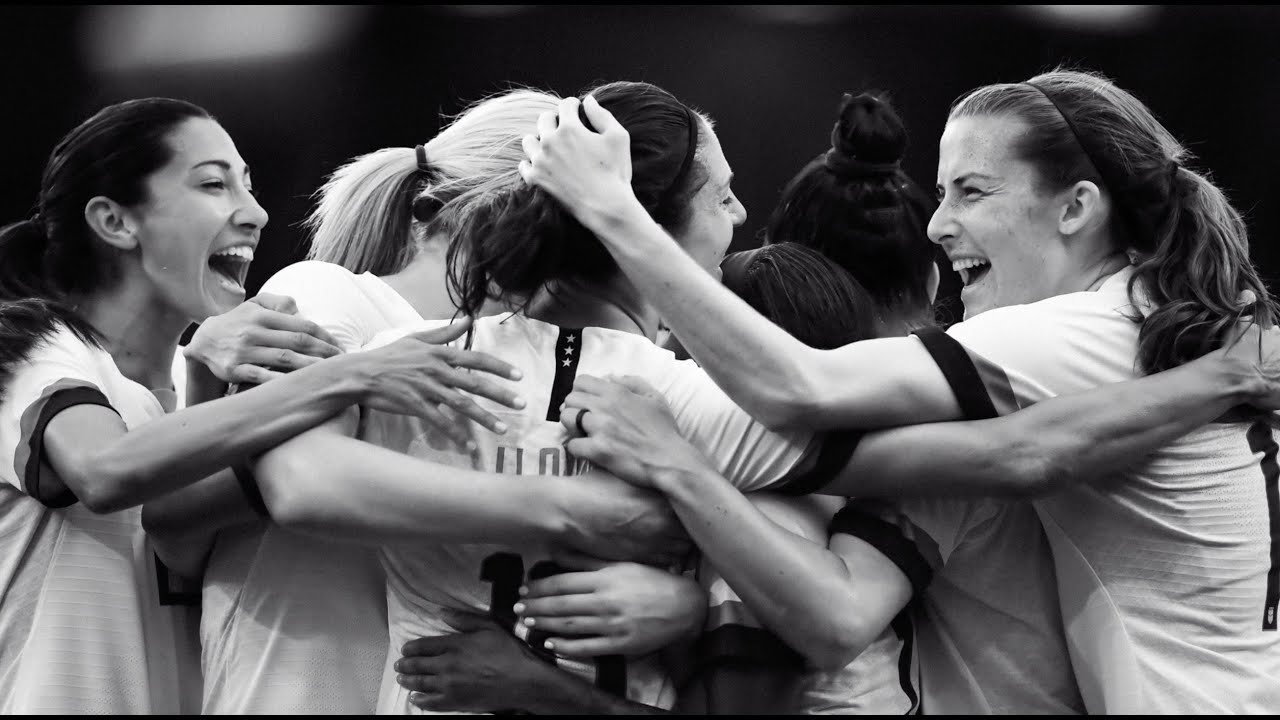 7 Surprising AI-Powered Insights From 2019's Most Talked About Ad Campaigns
We've only just got past the halfway mark, but 2019 has already been a year to remember in Adland.
There's still a long way to go, but already this year we've seen some of the most talked about ad campaigns in recent advertising history.
From Gillette's "The Best Men Can Be" campaign to Nike's "Never Stop Winning", launched to celebrate the US women's soccer team bringing home their fourth World Cup, it's certainly not been boring.
So before we say goodbye to the final weeks of summer and start looking forward to the Fall and festive periods, we thought we should take a step back and look back at some of these controversial campaigns in more detail using our Emotion AI tech.
After all, when ad campaigns attract a lot of criticism, it's easy to be swayed by other, more vocal viewers' opinions.
So rather than just asking people how they felt, we also measured people's instinctive responses in real time - before they had had time to consider their responses.
We did by using our self-service platform Realeyes GO, which uses opted-in webcams to analyse viewers' body language, head movements and facial expressions to measure just how engaged they were and how exactly they felt second by second.
Each creative is also given a Realeyes Score. It's an overall performance metric out of 100 that gives brands an instant snapshot of their video's performance.
To make sure we had all our bases covered, we also asked them to write down their thoughts. We then used our Sentiment Analysis feature to assess whether the overall sentiment of the comments were negative or positive.
So let's take a look at what we found:
Campaign: Nike - "Never Stop Winning"
Background
The US soccer team wasn't the only winner at this year's Women's World Cup. Sure, the #USWNT flew home to the States with their fourth World Cup trophy in tow, but one other team came away from France tasting sweet success - and they did it without kicking a single ball.
OK, they may have been wearing shiny suits rather than shinpads, but Nike walked away from yet another sporting event celebrating victory. The US sports giant has made a habit of upstaging their rivals adidas at big sporting spectacles - and this year's Women's World Cup was no exception.
Adidas may have been the official sponsor of an event that attracted more US viewers than the men's World Cup, but it was Nike that was the brand on everyone's lips. The US firm sponsored 14 of the 24 teams in the tournament, including three of the four teams that made the semi-finals, including finalists the US and the Netherlands. They also sponsored a number of the star players on show, including Golden Boot winner Megan Rapinoe.
The US sports brand also created the most talked about campaign of the tournament, "Never Stop Winning", launched in July, at the end of the tournament. The ad toasts the USA's success and has an incredibly empowering message, calling on women to conquer more than just the soccer field. But did it resonate with viewers?
1. "Never Stop Winning" Divided Opinion
Unsurprisingly, "Never Stop Winning" was a real hit among female viewers. Its celebratory tone, plus its themes of female empowerment and equality at a time when the US women's soccer team are demanding the same pay as their male counterparts, attracted a Realeyes Score of 81 out of 100.
Among men, however, it's a very different story, with the ad generating a score of 52/100.
Realeyes' tech found that 9.8% of women who watched the ad showed visible happiness while watching, which is higher than the average across the ad industry of 9.5%.
Fewer men found the ad uplifting, with only 7.7% of male viewers showing signs of positive emotions, lower than the 8.5% average.
Never Stop Winning - Positive emotions - men v women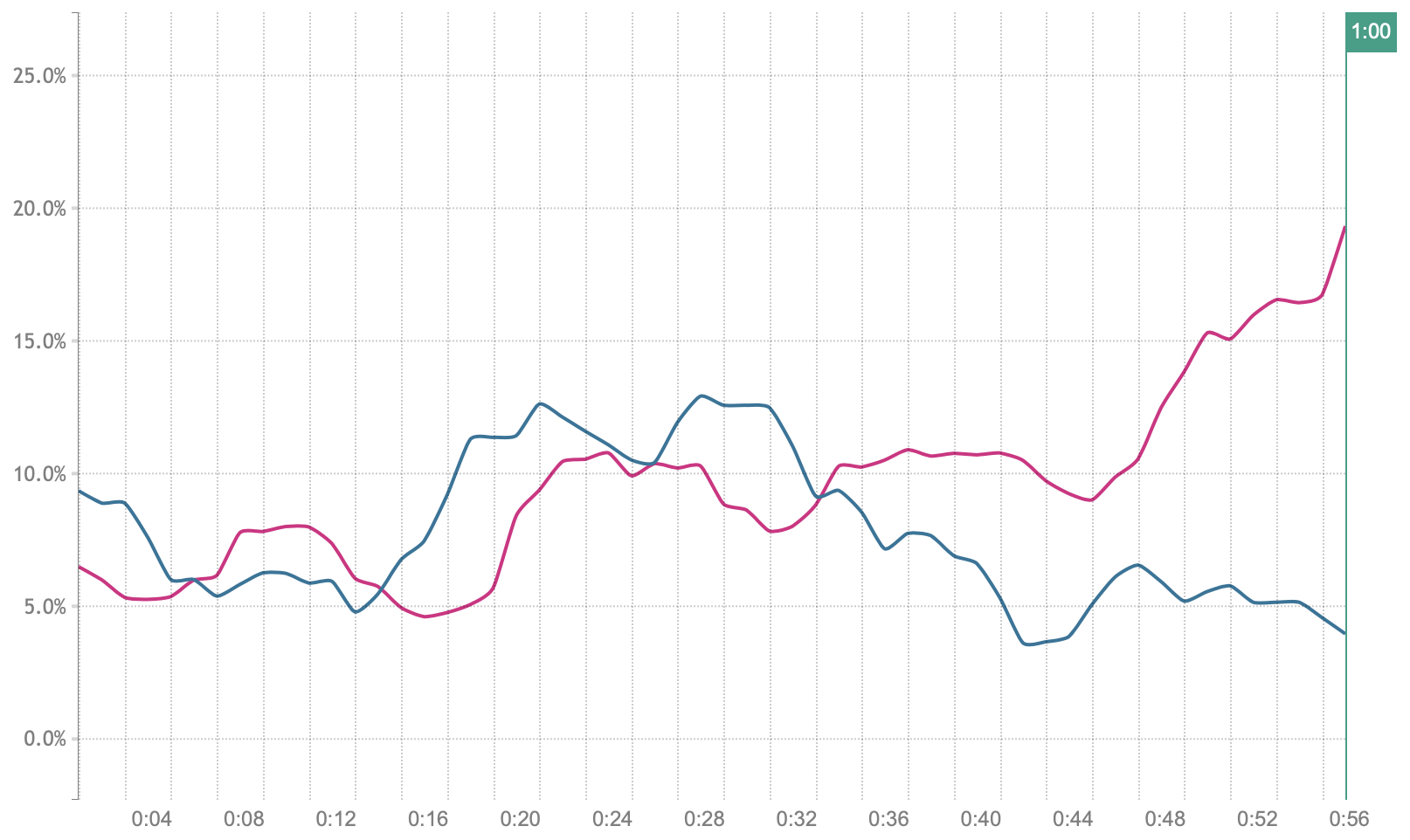 But one thing that is interesting is when men's emotions change.
As you can see from the chart above, men's positive feelings towards the content fall drastically in the second half of the ad.
At the start of the video, when the narrative and imagery are about sport and winning, men's positive engagement levels are as high, if not higher, than female viewers. However, when the theme changes to equality and female empowerment, these positive feelings disappear and are replaced by negativity. Men over 35 were particularly negative.
In contrast, more and more women displayed visible feelings of positivity towards the end.
2. But men were actually more attentive than women
With its slightly unusual format, confident, self-assured tone and controversial message, "Never Stop Winning" was designed to attract attention. And it certainly managed that, with attention levels higher than average for both men and women.
Never Stop Winning - Attention - Men v Women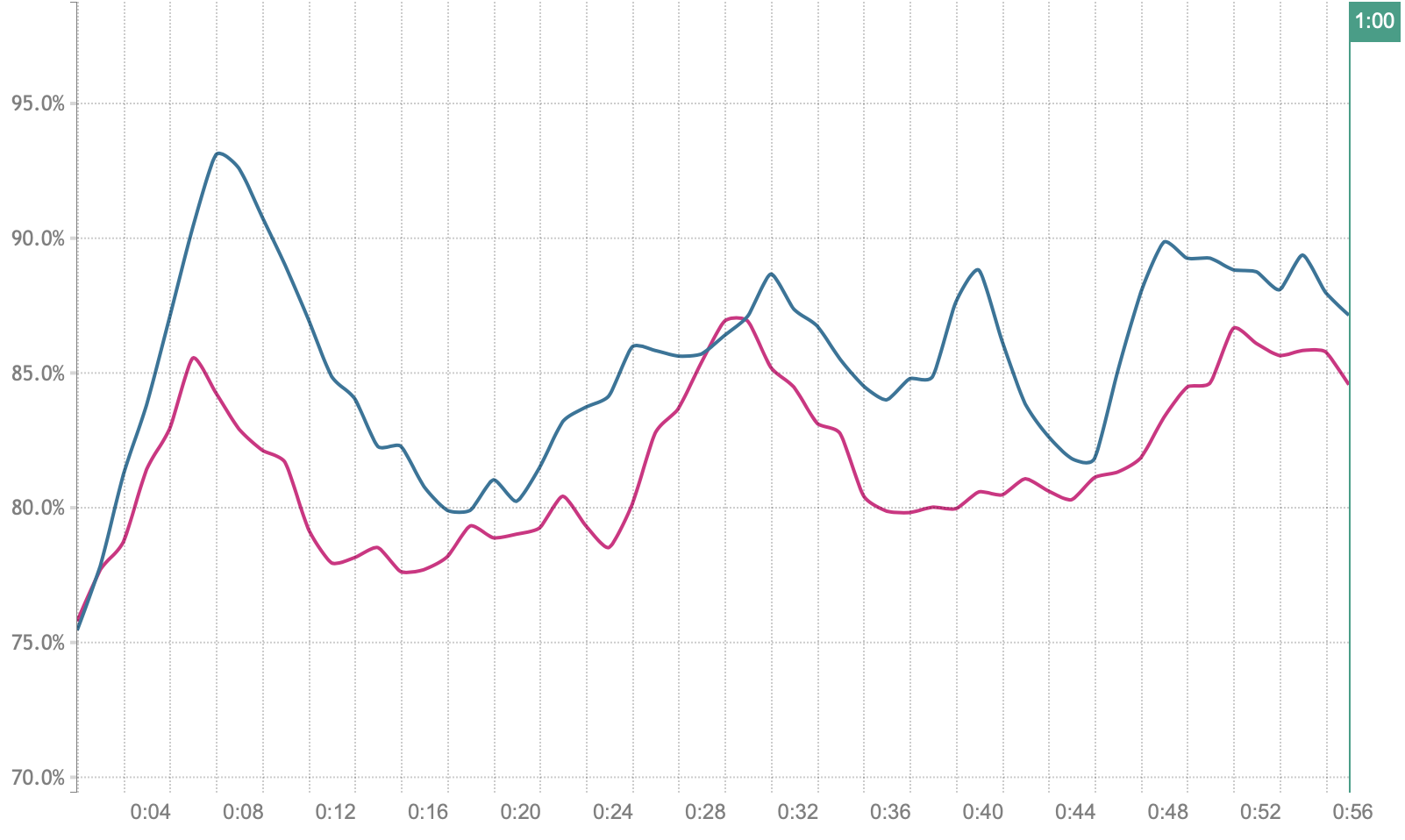 But, as mentioned before, despite a lot of male viewers not liking the ad's message, it certainly got their attention. In fact, 85.1% of men remained attentive throughout, which is a higher proportion than women (81.5%).
3. Nike campaign shows how hard it is to maintain attention of younger viewers
If ever you needed to understand just how hard it is to attract and maintain the attention levels of younger audiences, you only need to look at the chart below.
Never Stop Winning - Attention Levels by Age Group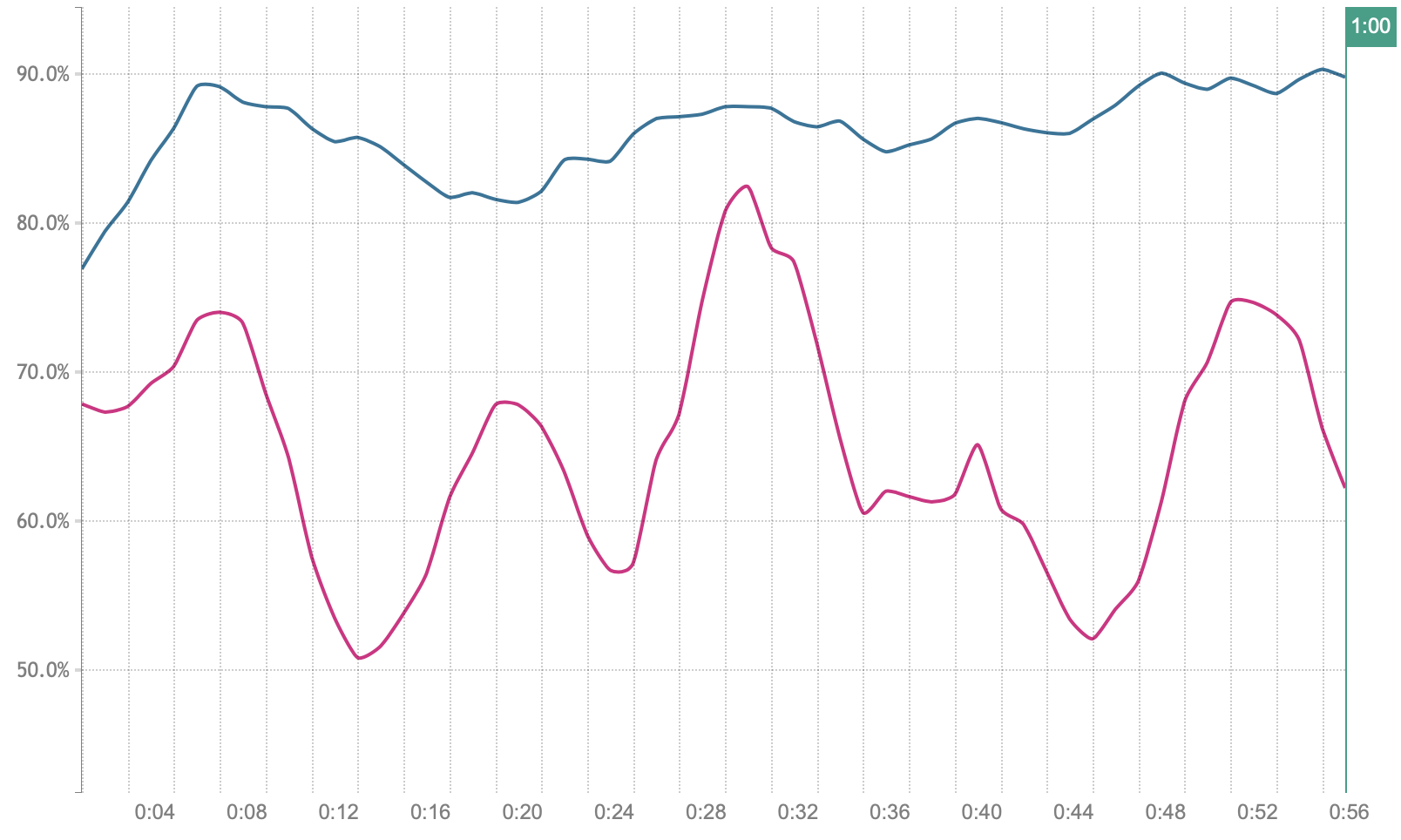 The chart compares the attention levels of over-35s (blue line) with under-35s (pink line). As you can see, it's quite a difference. While slightly older audiences maintained their attention throughout, younger viewers were a lot more distracted.
It shows the challenge brands face trying to engage younger audiences. This lack of attention meant the ad scored lower for younger audiences, attracting a Realeyes Score of 59, compared with 74 for viewers 35 and over.
---
Campaign: Gillette "The Best Men Can Be"
Background
Anything that leaves TV presenter Piers Morgan frothing at the mouth is always a second look.
And that was certainly the case with Gillette's "The Best Men Can Be" campaign, which Morgan branded "a pathetic global assault on masculinity".
The January campaign, which attracted both generous praise and outright condemnation in equal measure for its take on modern masculinity, was a bold move from the P&G brand. But did it work?
4. Gillette campaign was a hit among younger audiences
Gillette clearly had its eye on the future, with younger generations, both male and female, a lot more positive and welcoming to the content.
Our AI tech detected much higher levels of happiness among younger audiences, as you can see from the chart below.
Happiness traces by age group - Gillette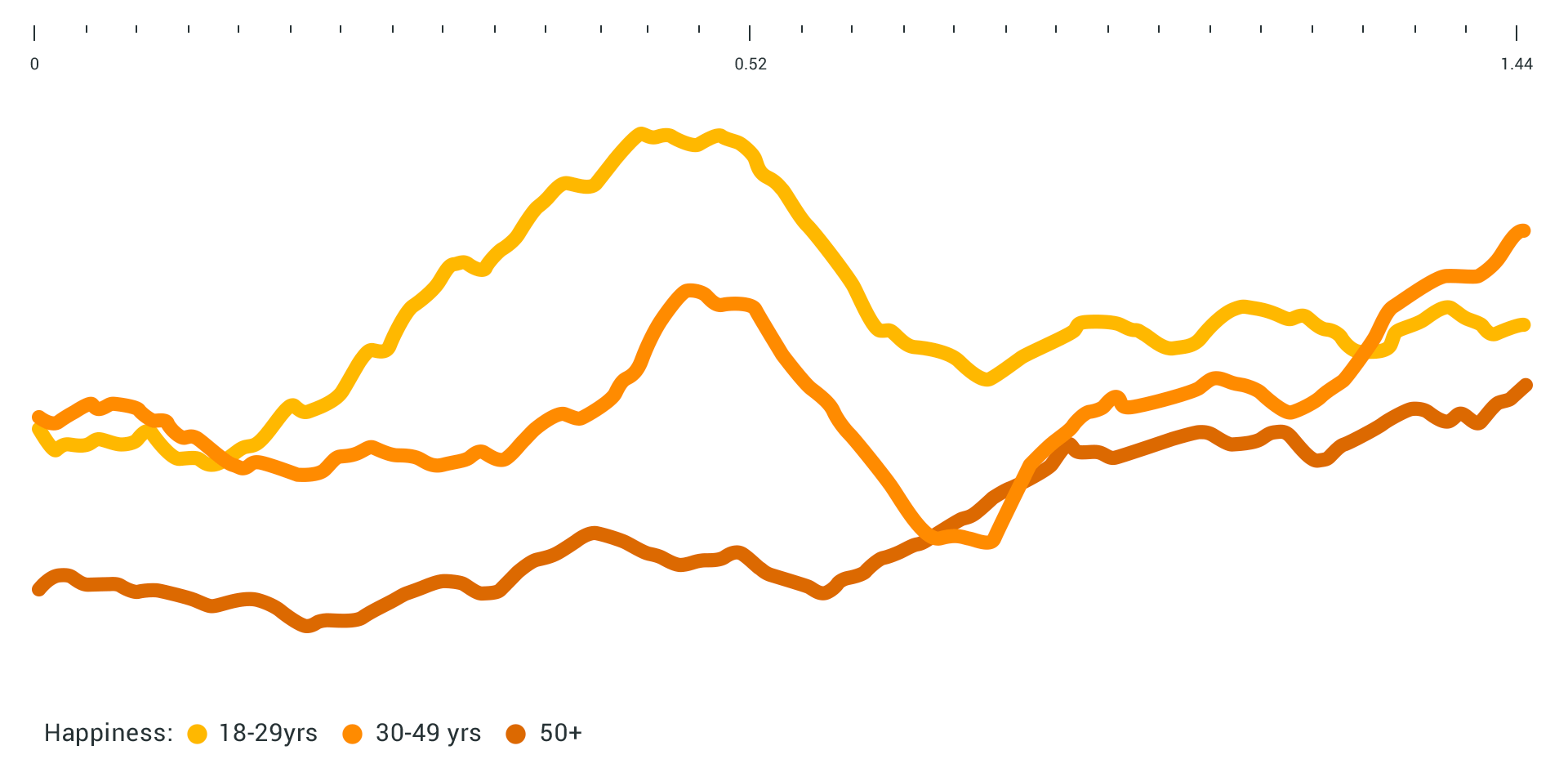 The comments left by younger viewers were also a lot more positive towards the brand. Using our Sentiment Scale, which analyses the overall sentiment of each comment from -10 to +10, you can see from the chart below that people's comments about the content were a lot more positive among viewers under the age of 30 in both the UK and US, attracting sentiment scores of 4.02 and 4.08 respectively.
Those 30 and above were a lot less likely to leave positive comments. But this was clearly an ad targeted towards younger audiences.
Overall sentiment - Gillette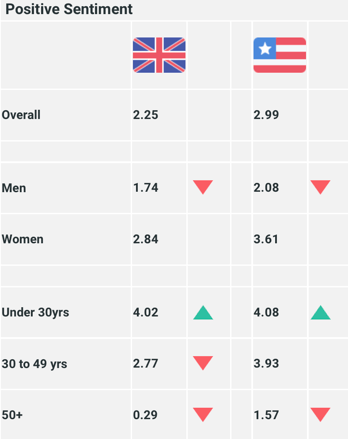 ---
Campaign: Nike: "Dream Crazier"
Background
In March, Nike followed up its 2018 campaign "Dream Crazy", featuring controversial NFL star Colin Kaepernick, with another campaign that got people talking.
This time narrated by another contentious sport star, Serena Williams, and featuring other leading female sport stars, such as gymnast Simone Biles, snowboarder Chloe Kim and fencer Ibtihaj Muhammad, the ad tackled gender inequality in sport, highlighting the way female sports stars are portrayed in the media. Both campaigns are polarising and in-your-face, challenging audiences to have a point of view.
But which fared better? And did the gamble pay off?
5. "Dream Crazier" generated more positivity from viewers than "Dream Crazy"
When comparing the two ads, it's very clear which was received more positively.
People watching "Dream Crazier" were much more likely to show visible signs of happiness.
Using Realeyes' EmotionAll® score, which gives brands an instant snapshot of how emotionally engaging their content is, "Dream Crazier" managed 8/10, compared with "Dream Crazy's" 7/10.
This was largely driven by high levels of positive engagement in the the second half of this ad, which builds to a crescendo at the end and peaks when the Nike logo is shown.
Both ads resonated more strongly with women. Among female viewers, "Dream Crazy" managed an EA score of 8/10, 83% higher than the average ad in Realeyes' database of 20,000 ads. "Dream Crazier" also scored 8/10 with women, but was 86% higher than the average. However, among men, "Dream Crazier" was more popular, managing a score of 7/10, compared with Dream Crazy, which scored 6/10.
Dream Crazy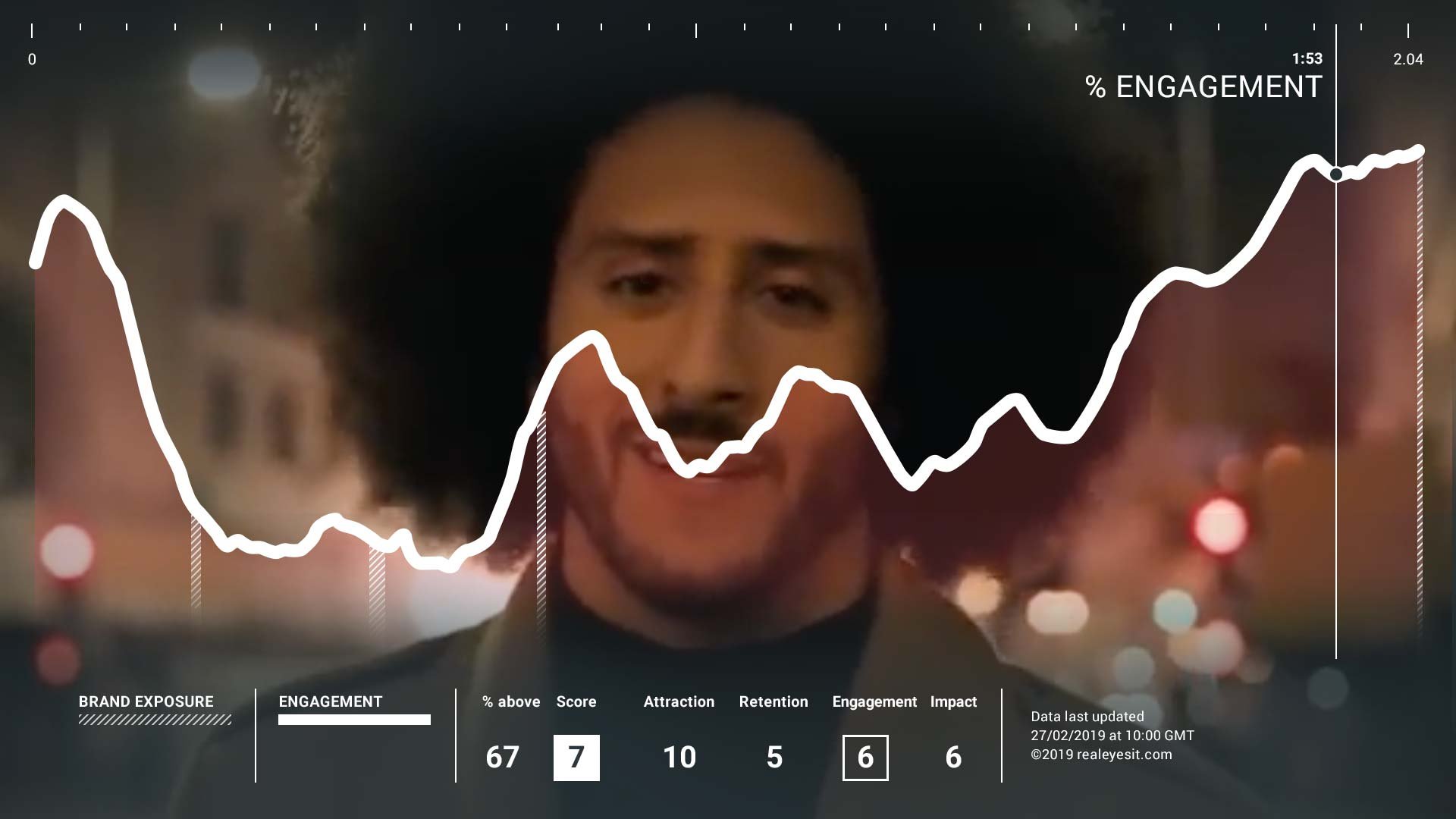 Dream Crazier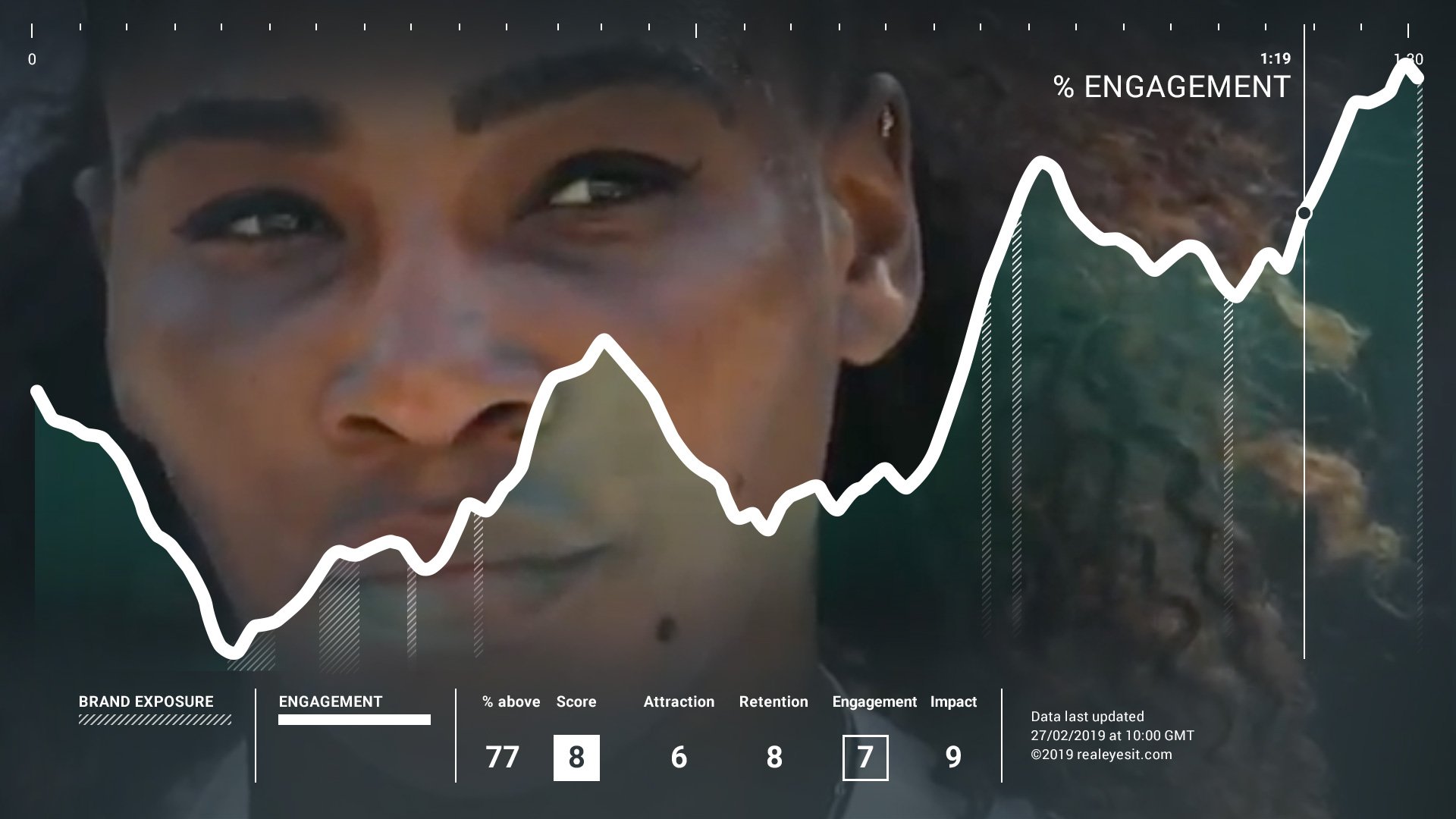 Realeyes also asked viewers to leave their thoughts on what they thought of the two ads. We then used AI to score each comment to see which ad attracted the more positive comments.
The results? Well, overall, "Dream Crazier" attracted a higher percentage of positive comments from viewers (79.8% of comments were positive), while "Dream Crazy" proved a lot more polarising. It attracted fewer positive comments (70.9% of comments were positive), while a much higher proportion of comments were negative (22.6% v 6.7%).
The overall sentiment of the comments was also higher among men and women. Using our Sentiment Scale, which analyses the overall sentiment of each comment from -10 to +10, Dream Crazy averaged +4.39 with women and +3.82 with men. "Dream Crazy" scored +3.03 with women and +3.14 with men.
Sentiment Score
Dream Crazy, ft Colin Kaepernick
Dream Crazier, ft Serena Williams

+ 3.03 Women

+ 3.14 Men

70.9% left positive comments

5.6% were ambivalent or neutral

22.6% felt negatively towards the ad

+ 4.39 Women

+ 3.82 Men

79.8% left positive comments

13.5% were ambivalent or neutral

6.7% felt negatively towards the ad
Sentiment score (scale between -10 and +10, with 0 neutral)
---
Campaign: Acreage Holdings: Medical marijuana ad
Background
From Bud Light's Game of Thrones crossover to, well, Michael Buble, Super Bowl 2019 certainly had its fair share of ad highlights.
But one ad that missing from the CBS broadcast in February was an ad from marijuana and cannabis investment company Acreage Holdings, which makes an emotional case for the federal legalisation of medical marijuana in the US. The 60-second ad profiles three people whose lives have been transformed because of it. It's currently legal in only 30 states.
One is a mum whose young boy suffers hundreds of seizures every day. We also meet a man addicted to opioids and a veteran who suffers from intense pain since having his leg amputated. They all describe how medical marijuana has helped them cope.
However, despite the heartbreaking pleas of the content, CBS was not moved, insisting the ad would not be aired during the Super Bowl because they do not broadcast ads for marijuana. But did the content resonate with viewers? And should it have been banned?
6. 84% said it should have been aired
Well, we answered the second question using a simple survey, and the answer was an unequivocal 'yes'. In fact, 84% of our sample said the ad shouldn't have been banned.
7. Men were more upset than women
When looking at the emotional traces of men and women (chart below), it's men that found the ad much sadder. Fifteen percent sadder, to be exact. In fact, the ad was 35% more likely to make men upset than the average ad in the sector, particularly during the second half of the video.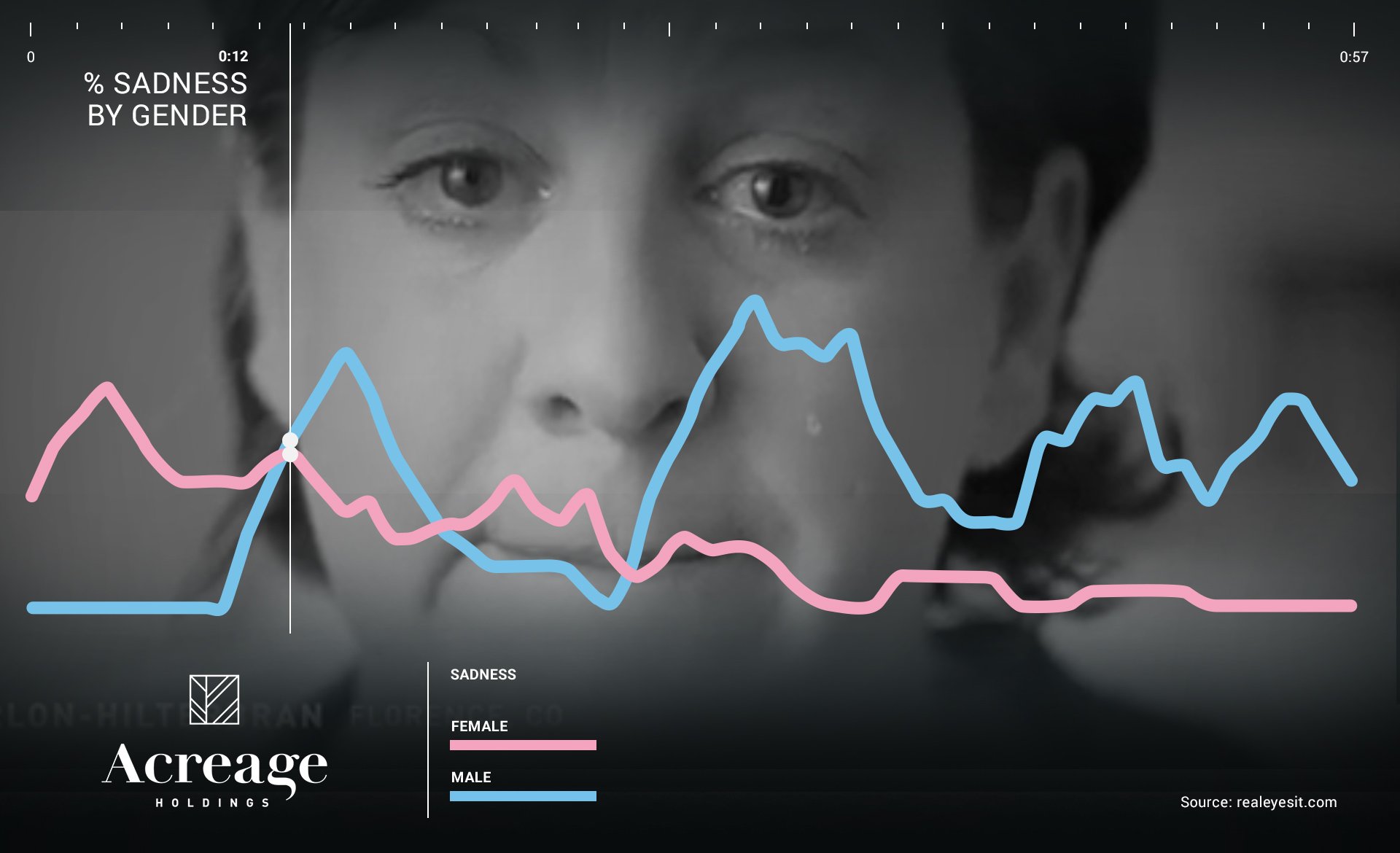 Meanwhile, women, who on average are more likely than men to show signs of sadness while watching ads, were 10% less sad. Women's sadness levels peak at the start of the video, during the scene showing the mum and her son, and then tail off for the rest of the 60-second spot.
Find out more about our new AI-Powered Platform.