Our patented video attention prediction system, PreView, has steadily gained momentum since its launch in Fall of 2020.
The simple measurement framework of "Capture Attention, Retain Attention and Encode the Brand" is resonating with advertisers' workflow and has already won four industry awards.

Brand partners like Church & Dwight are appreciating the simple Quality Score for understanding and predicting in-market performance of videos, and what you need to do to improve their performance. PreView introduces concepts like creative efficiency, creative influence on quality media exposures, and effective impression cost. And PreView is purpose-built for scale, to enable performance accountability for every video in a large brand company.

Today we take another big step in living out the vision of PreView by introducing the PreView API. The PreView API enables advertisers to ingest large volumes of Realeyes' attention data into their existing analytics systems and workflow.
This will empower clients to further harness attention and emotional response data to optimize video creative and increase quality video exposures, all while reducing wasteful spending from poor creative. Being an API-led product, we're also surfacing more value for high-volume brand partners like Mars by designing case-driven dashboards using the API with Google Data Studio.
Centered around objectives like account intelligence, portfolio optimization, attentive reach and competitive intelligence, these advanced dashboards are designed to unlock the power of comparative intelligence across high volumes of video files.

We also like aligning around Google Data Studio because it seamlessly integrates into the world's largest video platform, while enabling ingestion of data from other platforms as well.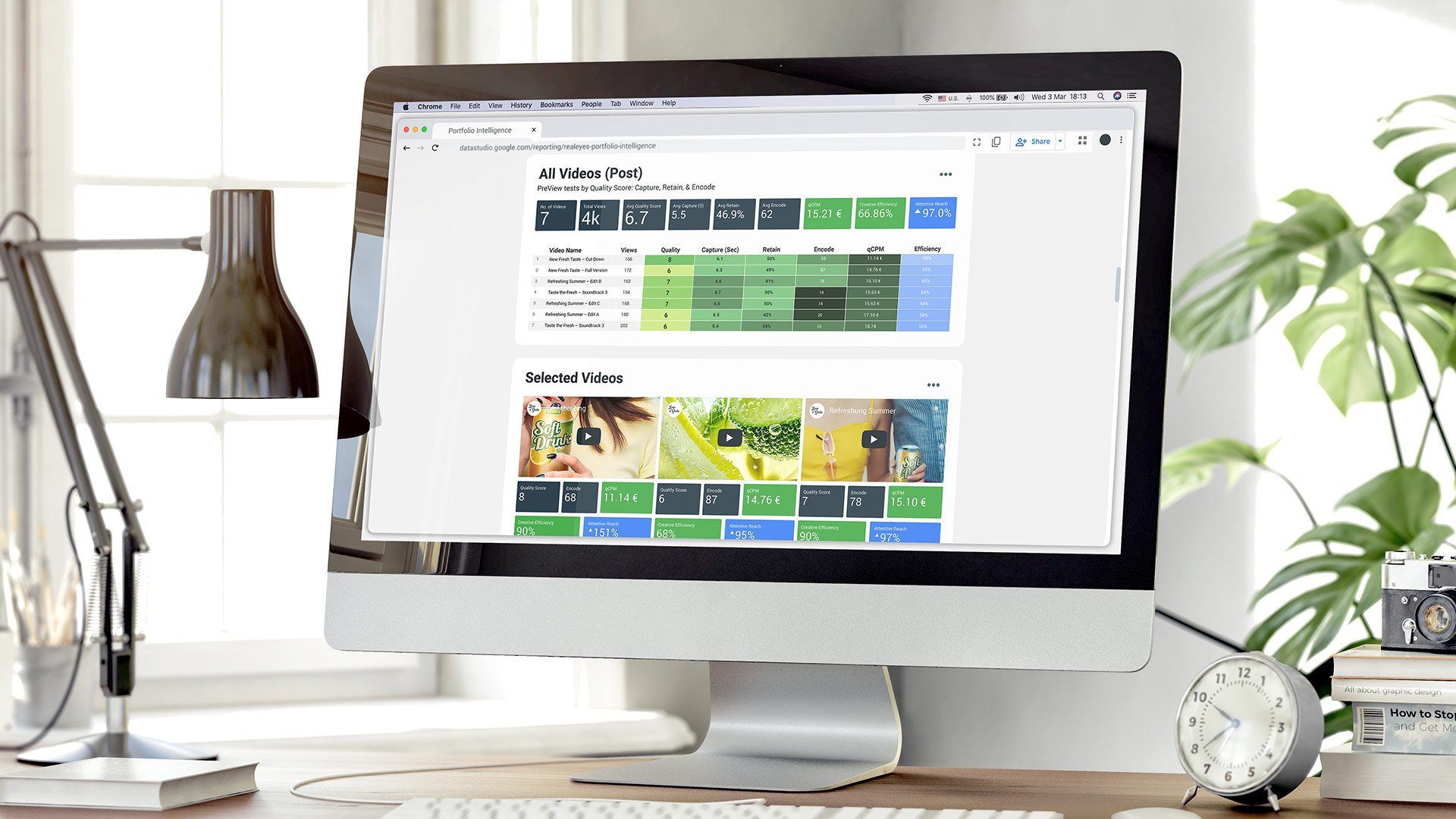 As we neared launch of the PreView API, we asked several of customers and partners their thoughts on creative, media and attention data. Here are two:
"Attention is a foundational outcome and smart advertising is evolving into scalable and automated video creation based on that outcome.

We see brands reaching a saturation point in optimizing media, and therefore they are turning more attention to the power of creative and its ability to drive attention."

Fergus Dyer-SmithFounder & CEO at Wooshii, a video content production platform
Attention helps create the right incentives to maximize the combined impact of media and creative. As cookies

deprecate

, attention metrics will become ever more important to optimize advertising performance and we'll need scalable solutions to deploy into our workflow.

James Donner, Partner and Head of Media and Strategy at Decoded, part of S4 Capital
Finally, as we bring the PreView API to market, we do so with a firm commitment to advancing the science of attention in advertising. Attention to creative represents the largest lever to drive advertising performance. For brands and platforms that truly care about human experience, attention to advertising in context represents the next step to take the industry beyond viewability and "potential" metrics, and instead to real business outcomes within the customer journey. Our vision of attention in advertising is detailed in our latest CMO Guide, "Attentive Reach: The Case for Human Attention in Brand Advertising."