Solidarity Ads Draw Attention to #BlackLivesMatter
Key findings
1.
All

ads tested held

attention for first

15

seconds


2. Statements can be powerful, but can risk loss of attention
3. P&G and Disney winning female audiences
4. All ads tested resonated more with older age group
Brands that play a part in our everyday lives are expected to make a positive contribution to society. Those who are silent, tone deaf or just plain get it wrong pay a heavy price. In 2018, Nike received plaudits for it's 'Dream Crazy' featuring Colin Kaepernick, who in 2016 had lost his NFL career after protesting against police brutality by 'taking a knee' whilst the national anthem was being played.
Following the killing of George Floyd in Minneapolis, across the globe we saw protests hit the streets and an outpouring of support on our screens. Many brands dropped their scheduled ads to show solidarity for the Black Lives Matter movement - some of whom came under fire from critics who believed that this wasn't their time or place to speak.
We took handful of major advertisers to see how they embraced such an emotive subject and see how they resonated with a US audience.
Brand
Spot
Duration
NFL
Black Lives Matter
1.10
P&G
The Talk
0:60
McDonalds
One of Us
0:60
Nike
For Once, Don't Do It
0:60
Disney Channel
Speaking Up, Because Black Lives Matter
0:29
All ads held attention for the first 15 seconds
In a time of crisis, attention is hard won, and emotional resonance is difficult to pitch. Mandate to CMOs: If you're going use advertising for social value messaging, you still need to earn attention as you would with any other ad in order to make best use your media spend.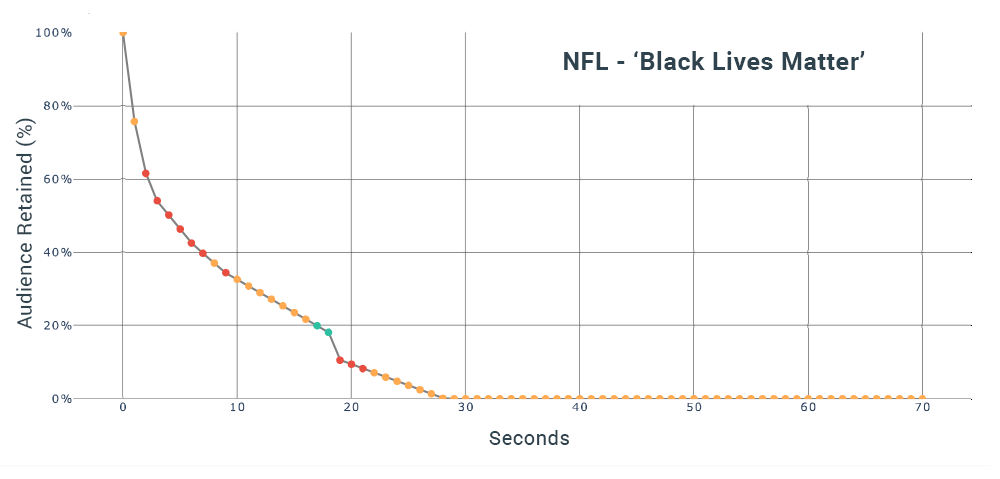 Predicted Audience Retention
Rate of Attention Decay Within First 15 Seconds

Brand
Second 5 (%)
Second 10 (%)
Second 15 (%)
McDonalds
50
35
22
P&G
50
33
23
Disney Channel
47
30
18
NFL
46
33
24
Nike
45
30
19
All five ads grabbed viewers full gaze for 15 seconds, and each ad also had their emotional peaks with pivotal moments. However, overall, they all had a mediocre attention score. It's as if the creators of the ads had assumed that they had a captive audience to deliver their full 30 seconds.
Statements

can be powerful, but empty frames risk loss of attention
The Nike ad, created by Wieden + Kennedy Portland, is a series of simple yet powerful statements set on a black background:
| | | | |
| --- | --- | --- | --- |
| | | "Don't pretend there's not a problem in America. Don't turn your back on racism. Don't accept innocent lives being taken from us. Don't make any more excuses. Don't think this doesn't affect you. Don't sit back and be silent. | |
Similarly, McDonald's used written statements against a yellow background. Nike used a soundtrack and McDonald's without. Imagery and sound are both levers of engagement, but these ads weren't created to entertain. Out of the five ads, McDonald's had the strongest start maintaining 5.1 seconds without distraction. We see that audience attention decreases with long fades, sustained pauses in between statements, or transitions between scenes that fade to black for long periods.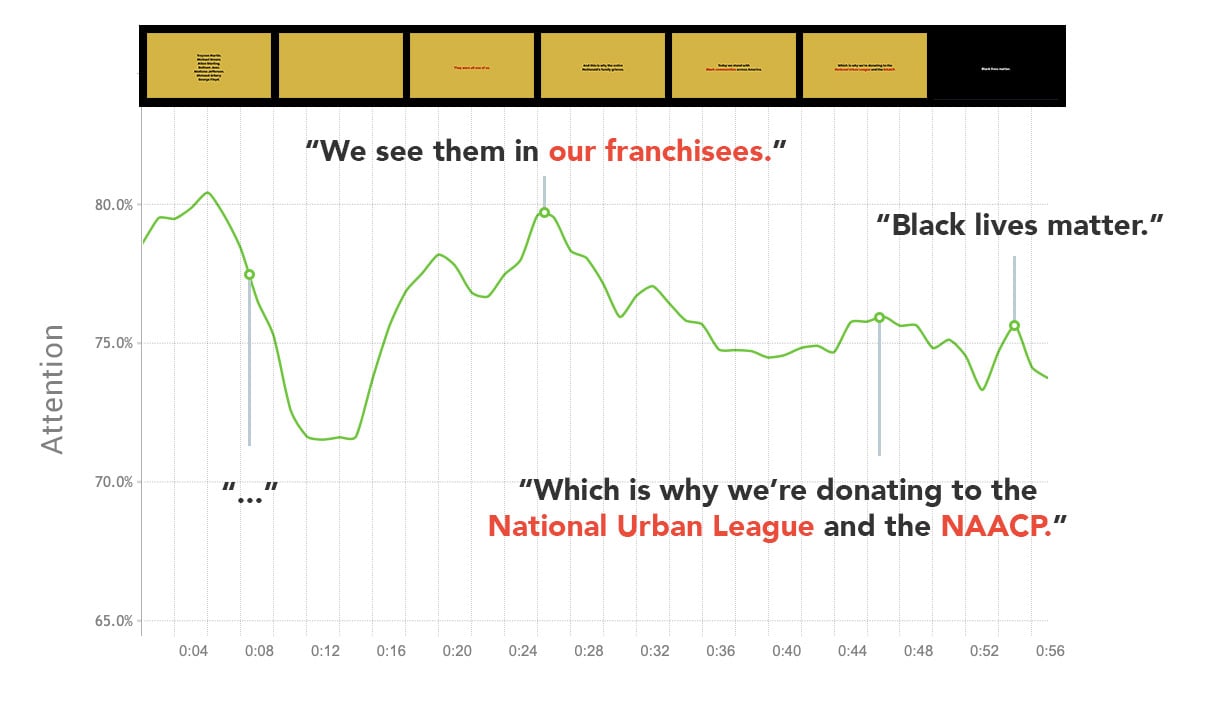 | | | | |
| --- | --- | --- | --- |
| | Time to first distraction | Attentive View Thru (%) | Attention Potential |
| NFL | 4.1 | 24 | 68 |
| Disney Channel | 4.1 | 18 | 83 |
| P&G | 5.0 | 23 | 45 |
| McDonalds | 5.1 | 22 | 52 |
| Nike | 3.7 | 19 | 67 |
P&G and Disney winning female audiences
Comparing the ads overall by gender there was little difference in performance. Nike, McDonald's and NFL leaned more towards male audiences. P&G and Disney favoured best with female audiences with The Disney Channel ad creating the highest performance of the five ads.
P&G re-released 'The Talk' ad (created by BBDO - Grand Prix Cannes Lions 2018) is comparatively more of a traditional narrative style of ad, that played off of their previous form of the, "moms as heroes" campaign in 2010. The story touches male and female audiences in different ways. For example the male audience's Attention peaks when the mom says, "This isn't about you getting a ticket. This is about you not coming home." Additionally, the male audience responds well to the concluding statements, "Let's talk about 'The Talk'". Whereas for the female audience, when the mom says, "You are not pretty for a black girl. You're beautiful period." – both the Positive Emotion and Attention traces reach significant peaks.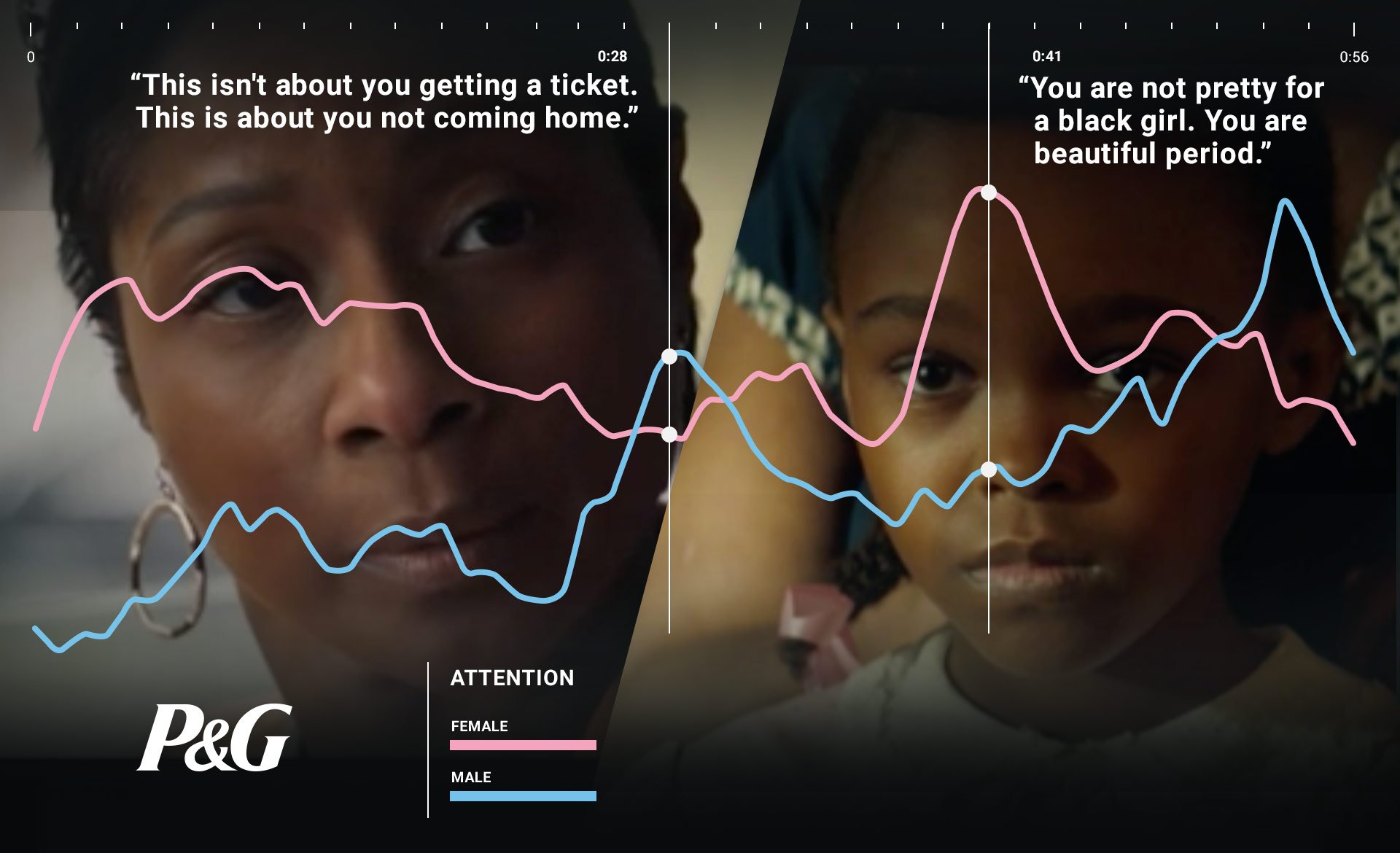 Overall, these ads resonated with an older audience
| | | | |
| --- | --- | --- | --- |
| Brand | Spot | Over 35s | Under 34 |
| NFL | Black Lives Matter | 77 | 39 |
| P&G | The Talk | 68 | 29 |
| McDonalds | One of Us | 63 | 38 |
| Nike | For Once, Don't Do It | 62 | 19 |
| Disney Channel | Speaking Up, Because Black Lives Matter | 56 | 39 |