First Covid-19 Auto Video Ads Reveal Appetite for Brand Reassurance
How do you sell cars during a global pandemic?

That surely is one of the toughest questions facing every auto manufacturer now.
Of course, every marketer is asking themselves similar questions about going to market during this unprecedented time.

It's a fine line to walk.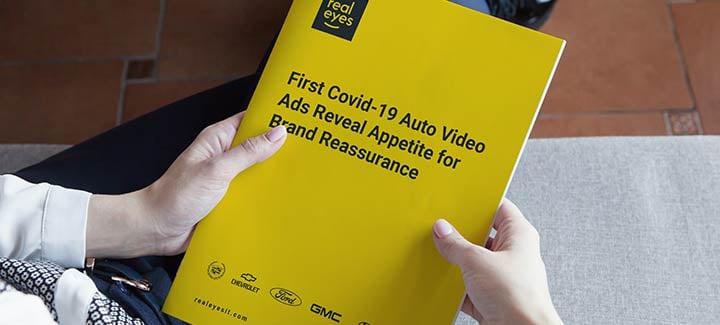 4 Key Takeaways for Marketers
To understand human response during this period of high alert and uncertainty, we measured the attention and emotion response of video ads released in the past week from six big manufacturers, including Buick/GMC, Cadillac, Chevrolet, Ford, Hyundai, and Toyota. The first COVID-19 ads from the auto industry yield some important considerations for all marketers in this new environment.

1. There's a right way to talk about yourself. People are receptive to brand messaging that conveys stability and comfort. However, people are less receptive to sentimental messaging interwoven with technical product aspects and more transactional sales messaging. Pick one, as they may not work well together.
2. Clarity is key during uncertain times. With more media consumption, more attention scarcity and more uncertainty, simple themes and messaging resonate better. If you want to be top of mind to sell product after the pandemic passes, then appeal to people now in ways that earn greater attention and emotional connection.
3. Lead, don't follow. Be bold, be different. Marketers inherently stick their necks out, and they will get it wrong occasionally. It is impossible not to offend someone when you're messaging to the masses. But as our comparative study shows, doing things differently can yield consumer connections and results far above the rest.
4. Keep close to your consumers. It's easy to burrow into a hole during difficult times. However, history has shown repeatedly that economic and turbulent times often present the best opportunities for marketers to come out ahead. New consumer needs emerge. Brand competition lessens (because of fearful herd mentality). Buying leverage increases. Now is a critical time to be loyal to your consumers by understanding them and staying with them.

Ford Leads An Otherwise Laggard Category
We used our video emotion measurement product, to reveal the Realeyes Score for each ad. It is an index based on aggregate measurement from a U.S. opt-in panel audience using front-facing cameras and anonymous facial coding. The score, from 0 to 100, combines viewers' overall emotional engagement and attentiveness - calculated by three key components: Interest, Engagement and Impact.
Ford's "Built To Lend A Hand," produced with Wieden+Kennedy, was the clear winner. With a Realeyes score of 65, it scored 14 points higher than the automotive category norm of 51, which represents that industry's aggregate score before the pandemic began. Hyundai's "Unpredictable," produced with Innocean, was second with a Realeyes score of 61. Other auto brands included: Chevrolet, with McCann Erickson and Commonwealth; Buick/GMC, with Engage M-1; Toyota, with Saatchi & Saatchi; and Cadillac, with Publicis Rokkan.
Ford's Breakout Reveals Clues To Consumer Receptivity
Understanding what is Ford doing differently yields extraordinary insight into ways big brands should approach messaging to consumers during this COVID-19 pandemic.
Ford's "Built to Lend a Hand" ad used a montage of iconic black-and-white photography, superimposed statements, soothing background music, a noticeable absence of voiceover and faces, and messaging signalling stability and citizenship.
Ford and its agency did this through references to the company's 100-plus-year history, contributions to building the economy, war-time efforts and, most recently, payment relief to victims of fire, hurricanes and tornadoes in the past year. The result was an emotional, serious, uplifting spot that was easy to process.

While Ford didn't use voiceover, its use of word-count in text was significantly less than most competitors' voiceover transcriptions. It is worth noting that all ads used text or words that were overall neutral in sentiment, according to Google text analysis.
Laggards Demonstrate Similar Creative Attributes
Compare Ford to competitors: Most ads promoted similar messages of citizenry, unity, sacrifice and togetherness, but did so more blatantly with explicit voiceover. They juxtaposed those sentimental signals with faster-tempo mood music, quick (sometimes dizzying) video cuts, an array of faces and family situations, and far more shots of the product performing through various locations and terrain.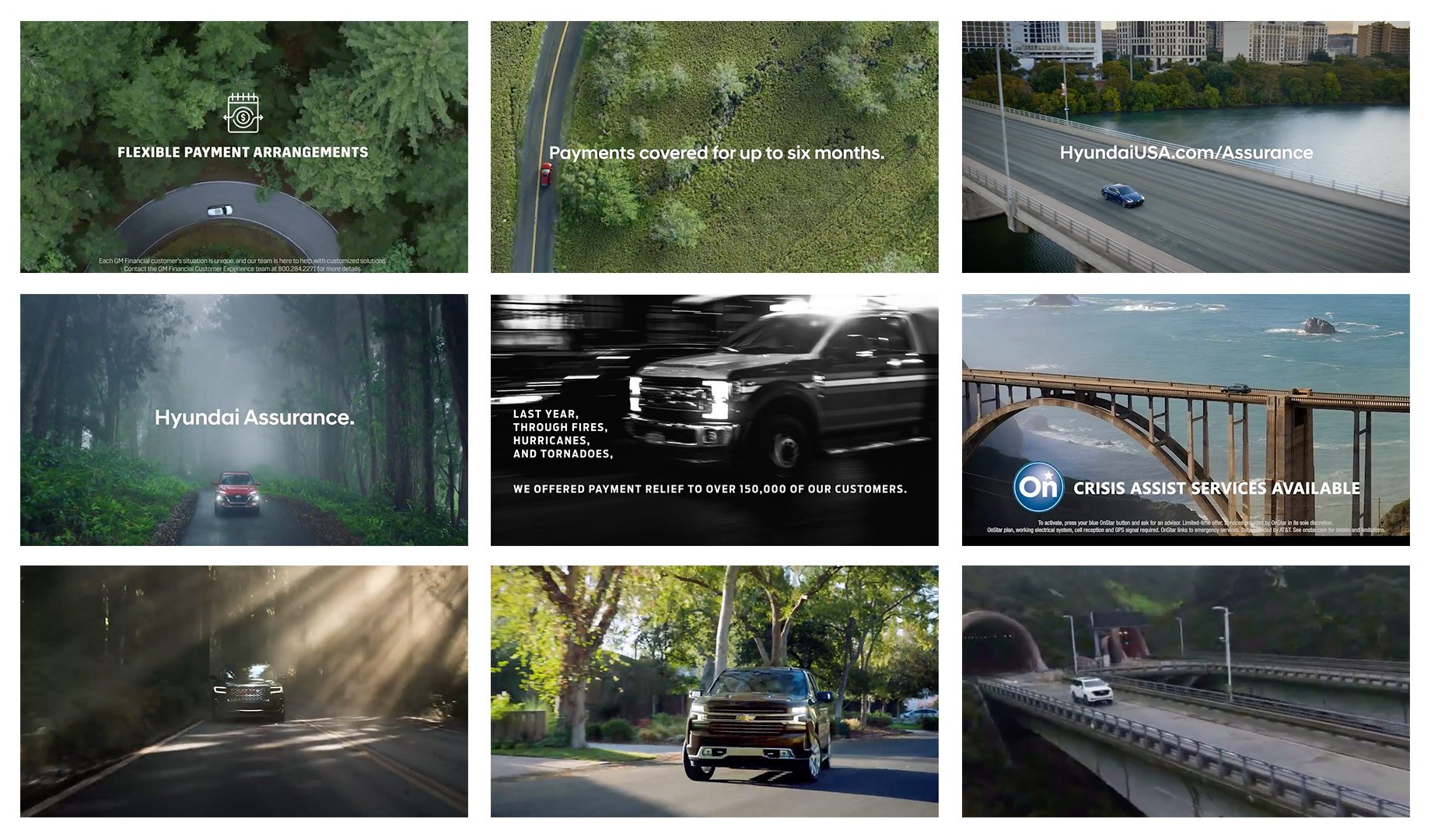 While Ford's messaging focused on its brand, other ads emphasized a multitude of features and technical product specs, like financing rates, On-Star capability, wifi and more.
How are you adjusting your advertising investments in this uncertain environment?
If you'd like to learn how emotion detection can help navigate your way to success, contact us below.