Halloween is here - hooray!

Yes, that annual event when the entire family celebrate everything that is horrible, creepy and terrifying in the world is back - and we couldn't be more excited. Wow, humans really are messed up, aren't they?
Never ones to miss out on a much-loved event, Halloween is also an opportunity for brands to join in the 'fun'. As well as 'monster' deals, pumpkin-inspired goods and an frightening number of scary puns on show, advertisers also like to push out ads designed to scare and surprise.
A lot of the time, these ads barely register so much as a grimace from audiences already desensitized from watching too many horror movies. But sometimes – just sometimes – an ad really hits home.
In fact, a recent ad for the horror film "The Nun" had to be taken down from YouTube because of complaints that it was too scary.
So, for your viewing pleasure, we have put them all into one handy list. Yes, that's right - we have come up with the scariest ads of all time. Some were ads released around Halloween and were created to scare people – others are ads that just creep us the hell out.
Top of our list is an ad for another horror film, Devil's Due, which, like a lot of successful horror movies, combines scares with humour. "Devil Baby Attack" is a campaign from the dastardly minds at agency Thinkmodo and shows what can only be described as a demon baby scaring New Yorkers out of their wits. Anyone nice enough to check on the crying baby in the pushchair is soon left to regret it as it bolts upright and starts screaming looking like something out of The Exorcist.
Of course, it's not a real baby, rather an incredibly realistic robot that could well haunt your dreams for the next few days. We also tested the ad to see how much attention and emotional engagement the ad attracted, and the results can be seen below.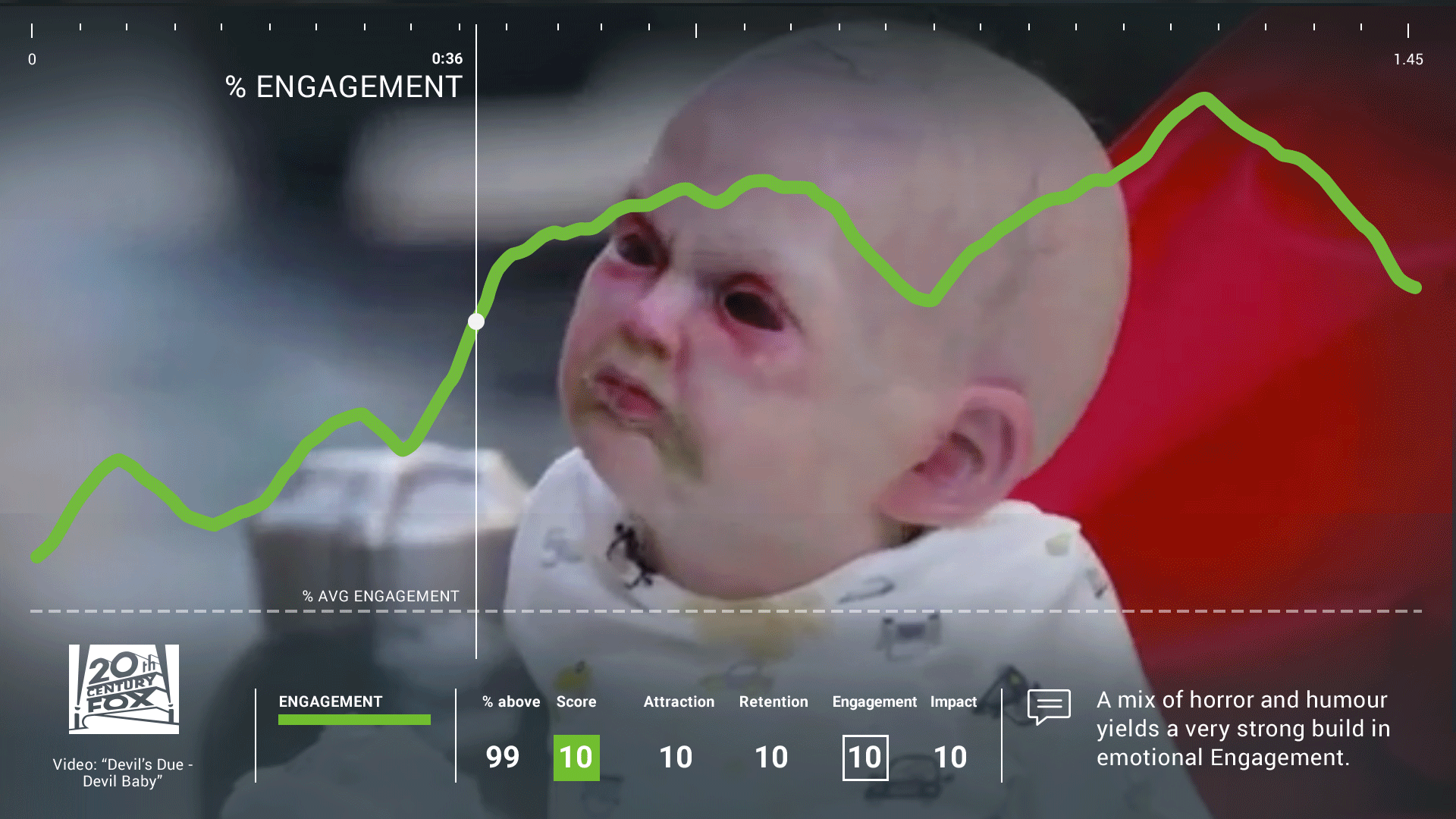 So, what are you waiting for? Dust off your Donald Trump fright wig, stock up on sugary treats, make sure you have added pumpkins to your shopping list for the first and only time of the year and watch the scariest ads of all time (ranked in no particular order).
Just make sure you grab a cushion and a spare pair of underpants.
| | | | | |
| --- | --- | --- | --- | --- |
| _________________________ | | BRAND | CAMPAIGN | YOUTUBE |
| | | Devil's Due | Devil Baby Attack | View |
| | | Skittles | Floor 9.5 | View |
| | | Rejuvenique | Electric Facial Mask | View |
| | | Meth Project | Deep End | View |
| | | Smokey the Bear | Smokey the Bear | View |
| | | Snickers | Halloween Store Lady | View |
| | | Little Baby Ice Cream | This is a Special Time. | View |
| | | Carrie | Telekinetic Coffee Shop Surprise | View |
| | | Dead Island | Official Trailer | View |
| | | Dirt Devil | The Exorcist | View |
| | | Phones 4 U | Little Girl | View |
| | | Autoway | Scary Japanese Ad | View |
| | | Public Information | The Spirit Of Dark And Lonely Water | View |
| | | Fragile Childhood | Monsters | View |
| | | K-Fee | Car | View |
To make sure your ad is attracting the right attention and is hitting the right emotional buttons, please download more information on our ground-breaking emotional and attention AI tech solutions (below).
The results could surprise you, just like Realeyes team members were left stunned when we showed them the K-Fee ad.
---


DOWNLOAD OUR PAPERS