How a Soundtrack Encouraged Cinema-Goers to Tackle World Hunger
The United Nations World Food Programme (WFP) and SAWA, the Global Cinema Advertising Association, have launched 'Feed Our Future' – a campaign to encourage global cinema audiences to drop their popcorn to donate to tackle world hunger.
Conceived by advertising legend Sir John Hegarty, the 60 sec spot 'Keep their voices alive' is set in a desolate war-torn landscape of burnt out cars and twisted iron poking out of fallen concrete. Amongst the rubble children stand, singing in unison the words of Yusef Islam's (Cat Stevens) ballad 'How can I tell you'.
Then each child begins to disappear like ghosts, with their silence signifying their loss. The song becomes weaker, lyrics become harder to decipher until it concludes with a solitary child singing: "When I look and you're not there." The video ends with the shocking statistic that every year, three million children die of hunger.
Wherever I am
I'm always walking with you
I'm always walking with you
But I look and you're not there
Whoever I'm with
I'm always, always talking to you
I'm always talking to you
And I'm sad that you can't hear
Sad that you can't hear
It always ends up to one thing,
When I look and you're not there
From the theatre of war to the cinema seat
In collaboration with SAWA, the Global Cinema Advertising Association, and NCM (National CineMedia), using our technology, we were keen to see how movie-going audiences would receive such a moving message and whether it roused enough compassion to trigger the desire to donate.
Methodology
Using  Realeyes' Emotion AI, which uses webcams to enable mobile devices and laptops to measure consumers' emotions and  attention  levels, we analyzed the responses of over 240 U.S. cinema-goers to the video.
Viewers were also asked to give their thoughts about the videos and used AI to score the overall sentiment of their open-ended comments using  sentiment analysis.  Additionally, we asked a series of survey questions. Finally, we benchmarked the video against other Charity and PSA videos tested within our database.
Findings
The data is unequivocal – Keep Their Voices Alive is a powerful video that captivates the audience, engages their emotions and ultimately increases their desire to donate to United Nations' World Food Programme.
1. More Compelling & Engaging Than Other Charity Ads
Keep Their Voices Alive produces more emotional engagement – encompassing positive and negative emotions – than other charity videos within the Realeyes' database.
% Positive

% Engagement

% Negative

Avg
Max
Avg
Max
Avg
Max
Video
9.7
13.7
29.0
34.5
12.0
19.1
Norm
7.8
14.3
25.4
34.5
9.9
16.2
The audience is intrigued by the video, simultaneously evoking both positive (Happy) and negative emotions. The furrowing of the brows signal a focus, a level of concentration through the video in attempt to follow the narrative through to the concluding message.

Confusion is heightened when the children fade away. Remember, no explanation for this is available until the very end – "Every year 3 million die of hunger. Help keep their voices alive."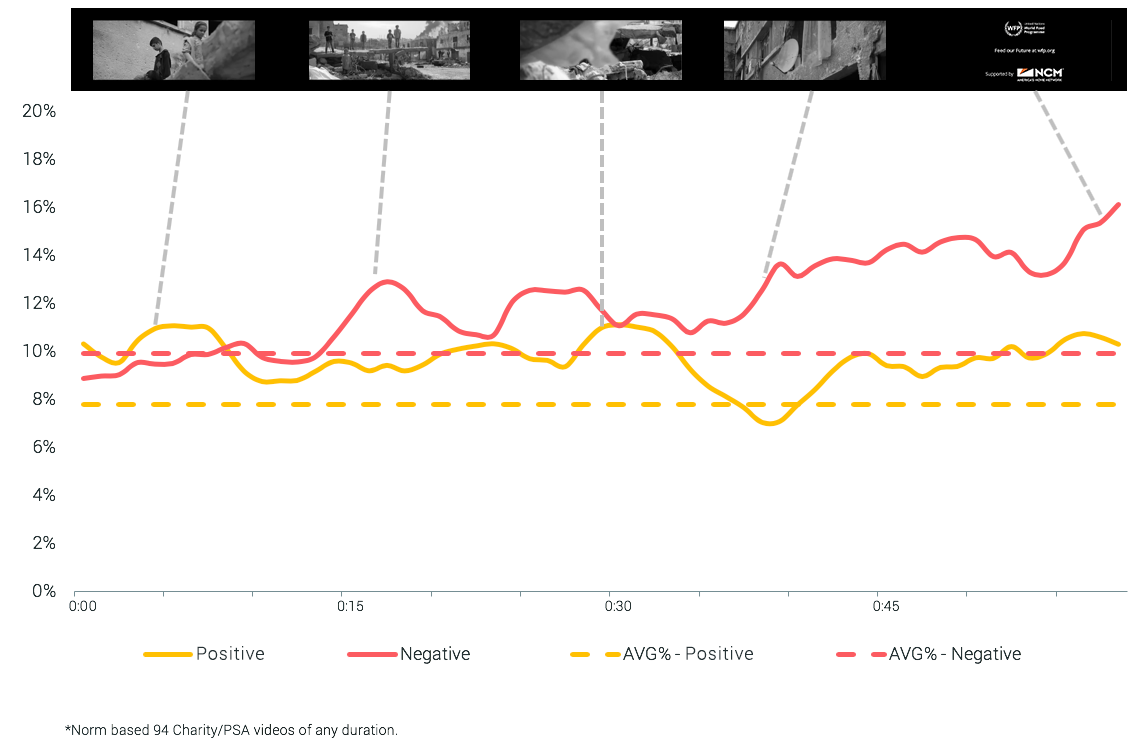 Interestingly, negative emotions were strongest, with Happy above the norm when the video concludes with the WFP logo – an unusual (but not unique) instance of negativity having a positive outcome.

We see the same pattern (but a smaller discrepancy) between those 'Very Likely' to donate:

2. Soundtrack Is Critical
The choice of soundtrack is crucial to any video, given that music's ability to connect with an audience, trigger memories and enhance visual cues in the edit. Realeyes Emotion AI is often used to help marketers select the best soundtrack or test to see if no sound is detrimental to a video's performance.
Sir John Hegarty's soundtrack choice of Yusef Islam's (Cat Stevens) "How can I tell you?" is inspired as was the idea to have the children sing it. Music, lyrics and visual narrative are inextricably linked. The haunting unison of children's voices against visual of a razed city the backdrop is a powerful emotional hit.
(Yusef Islam (aka Cat Stevens) singing, "How can I tell you?" at the BBC. Apologies for the poor recording.)
To isolate the impact of the soundtrack we also tested the video with sound removed.
That 'sound off' version produced less Positive and heightened Confusion. It also delivered weaker sustained focus (Attention Quality), meaning viewers lost interest quicker when the soundtrack was removed.
| | | | |
| --- | --- | --- | --- |
| | Views | Attention Quality | Norm* |
| Video – Sound On | 242 | 37.3 | 33.7 |
| Video – Sound Off | 262 | 32.4 | 33.7 |
3. Creates a Desire to Donate
We also measured the audiences responses after watching the ad to see whether the video improved the audience's reported desire to donate to the WFP – and it did!
| | | | |
| --- | --- | --- | --- |
| | Pre | Post | Lift |
| Video | 7.55 | 8.30 | +10% |
| Norm* | 7.57 | 8.10 | +8% |
That desire to donate is also evident in the verbatim responses.
4. Creates Desire to Donate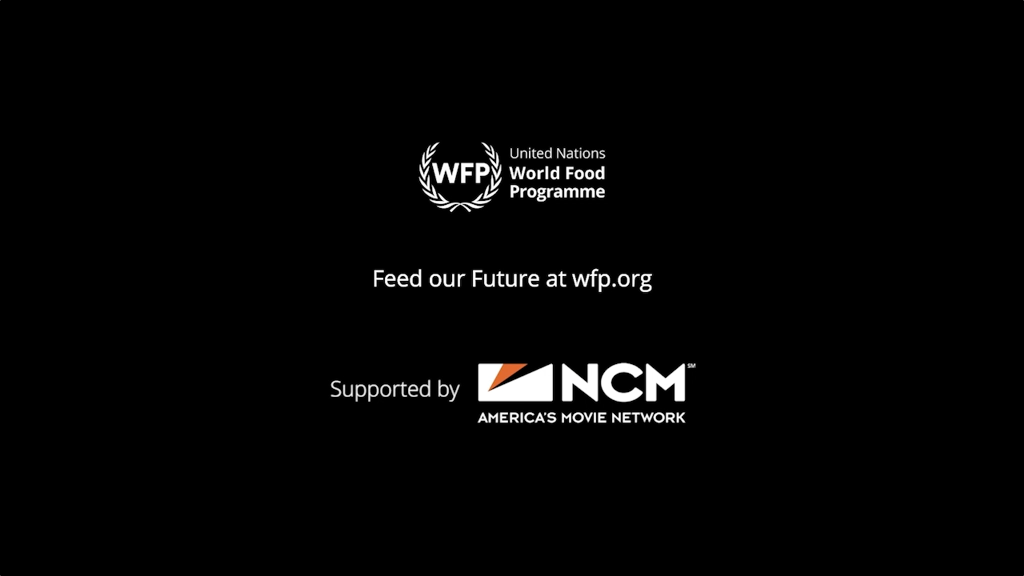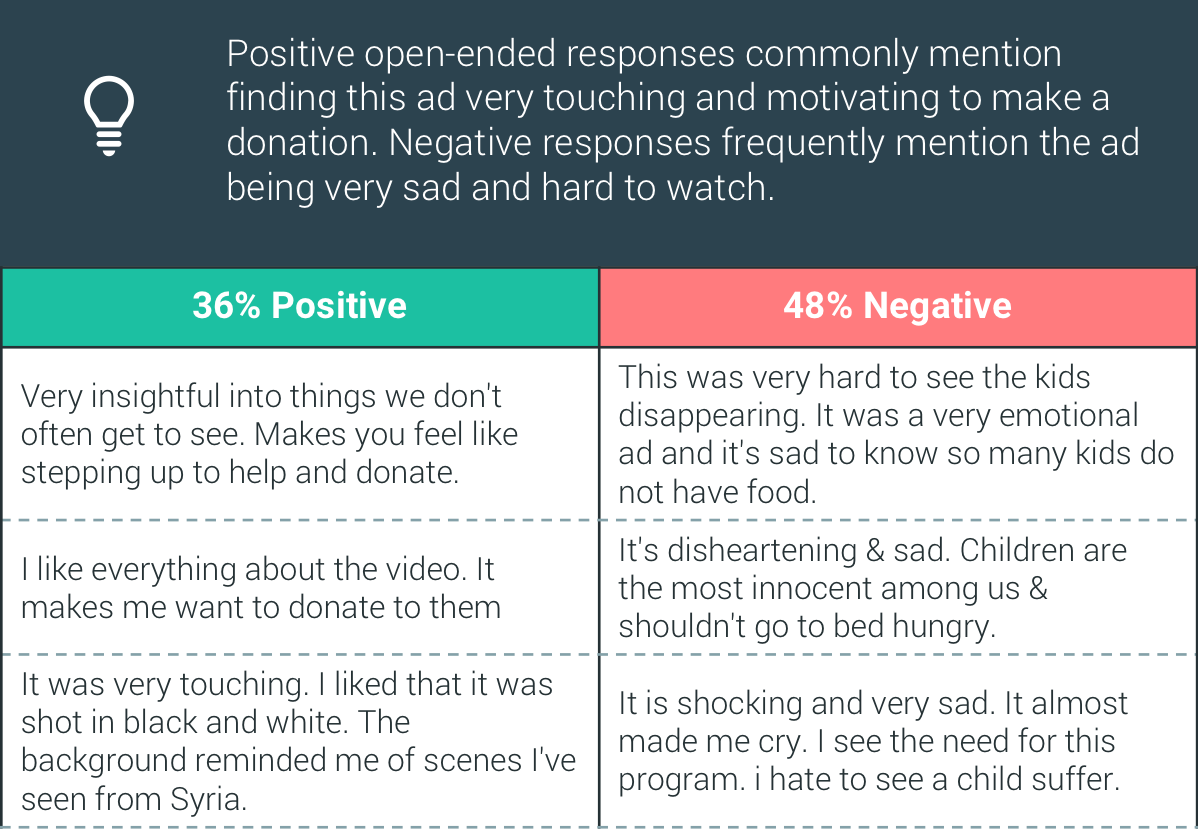 ---