Oasis is the second most popular soft drink brand after Coca-Cola in France. In 2012 they launched its film "Be Fruit" created by French creative agency Marcel, using playful fruit based characters (animated by Wizz), which resulted in great social media success. A follow up in 2014 saw the release of the branded-content project: the Papayon Effect, aimed at 15 to 25 year olds.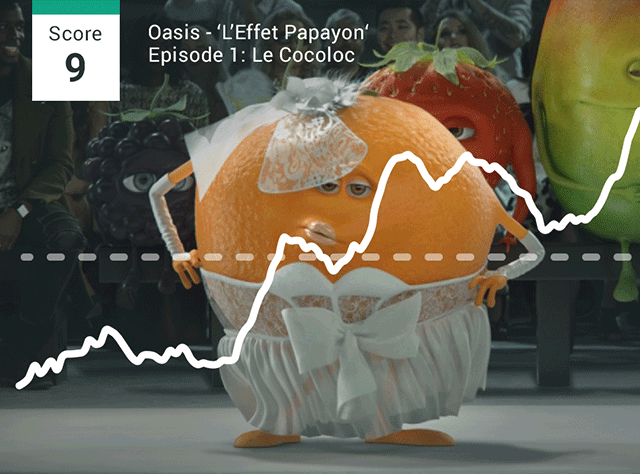 The Papayon Effect tells the story of love between protagonists Ramone Tafraise and Frambourgeoise, who never confess their love for one another and get themselves in to scrapes, fleeing from zombies and the like. Typical of branded content the characters really are the hero in this content rather than the product itself. The series of 4 episodes of 2 min 30 was broadcast online and in cinemas, with TV cut-down variations.

Video Performance Score
Overall the video achieved an
EmotionAll® Score
of 9 out of 10. A very strong score which from a
social media performance
standpoint would have expected to achieve at least over 3m Facebook shares and 40,000 YouTube views.

What was the Papayon Effect?
Fruitful! It's impressive to see a brand be so creative and embrace digital content or indeed transmedia to such effect. The use of multi-media shows how video content can be used to reach the maximum audience by multiplying the entry points to go beyond the target audience. Hiding 'easter eggs' within the video itself added a layer of engagement that went beyond the passive viewer and further in to the brand experience, but all of that effort is reliant on an effective video.
3 347 275 Facebook fans
800 000 Facebook views
157 678 Twitter followers
30 000 Twitter mentions
3 380 935 YouTube views for «Le Cocoloc»
9 058 615 YouTube views for all 4 episodes

Dashboard View
Looking at 'Le Cocoloc', the first of the four episodes, I recorded myself flipping between the content itself and the
dashboard
, showing how simple it is to see how a GenPop audience responded emotionally in terms of age and gender. Given that Le Cocoloc adult humour of a sexual nature, it was interesting to see how different segments responded differently and similarly to the different scenes.
Oasis – L'effet Papayon - Episode 1 'Le Cocoloc' from Realeyes on Vimeo.
Gender Performance
Looking at the engagement levels of both sexes, it was interesting to see that both genders enjoyed the content but there was an area at 1:18 (the limo scene) where men just tuned out and yet women continued to be engaged. Men were also more engaged during the gloomy lightening and the fashion catwalk scenes as female engagement dipped. Women were slightly more engaged overall but both genders enjoyed this content.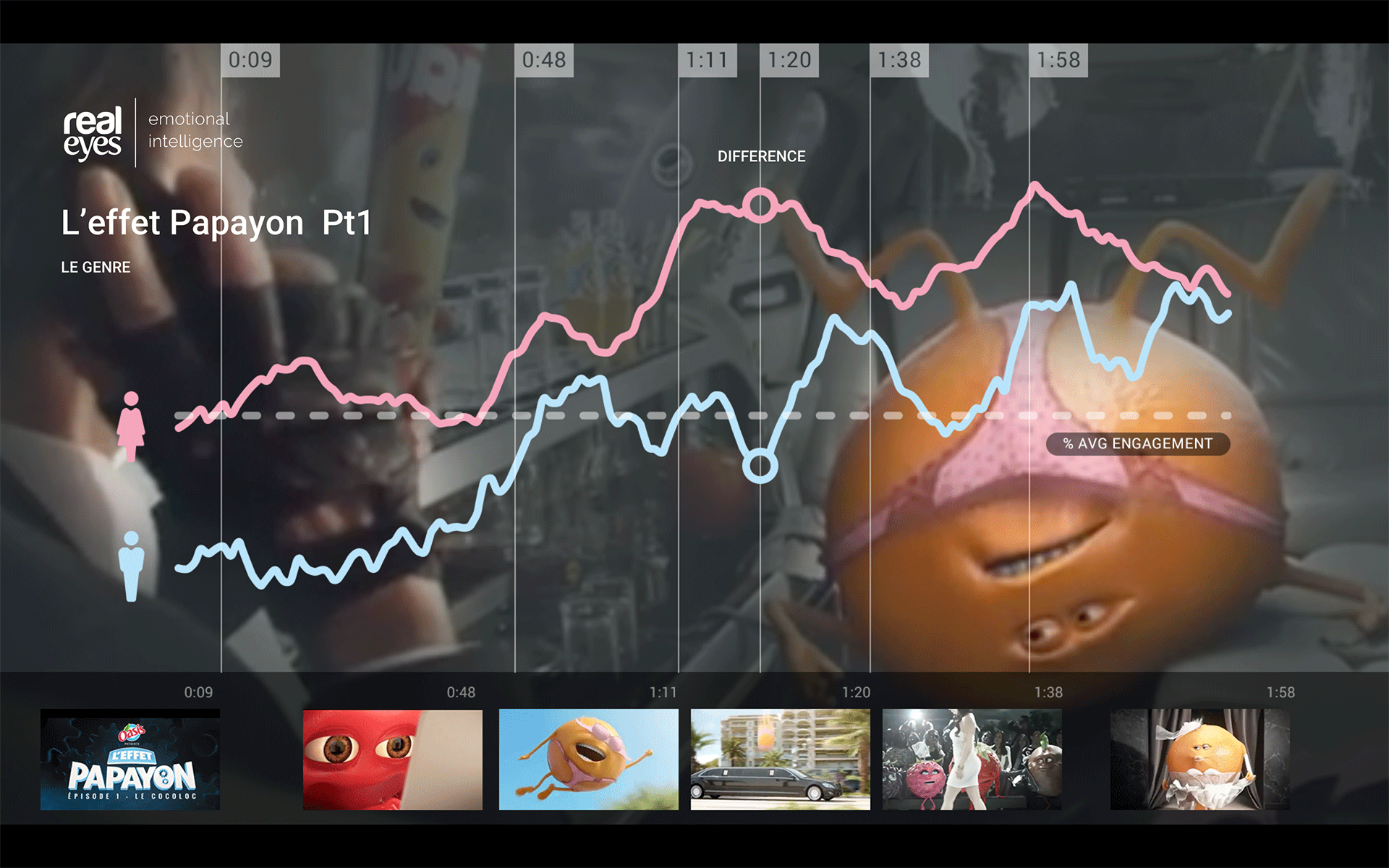 Age Performance
Some interesting contrasts here too, such as the "Fraisebook" scene seems to lose the target under 29s completely, but entertains the over 50s – and then the reverse happens with digital parodies when the over 50s don't seem to get the "youpomme" porn site scene, whereas the under 29s engagement climbs back up. There are plenty of scenes however which engages all audiences, such as when the character Orange Presslé does a Beyoné style strut down the catwalk.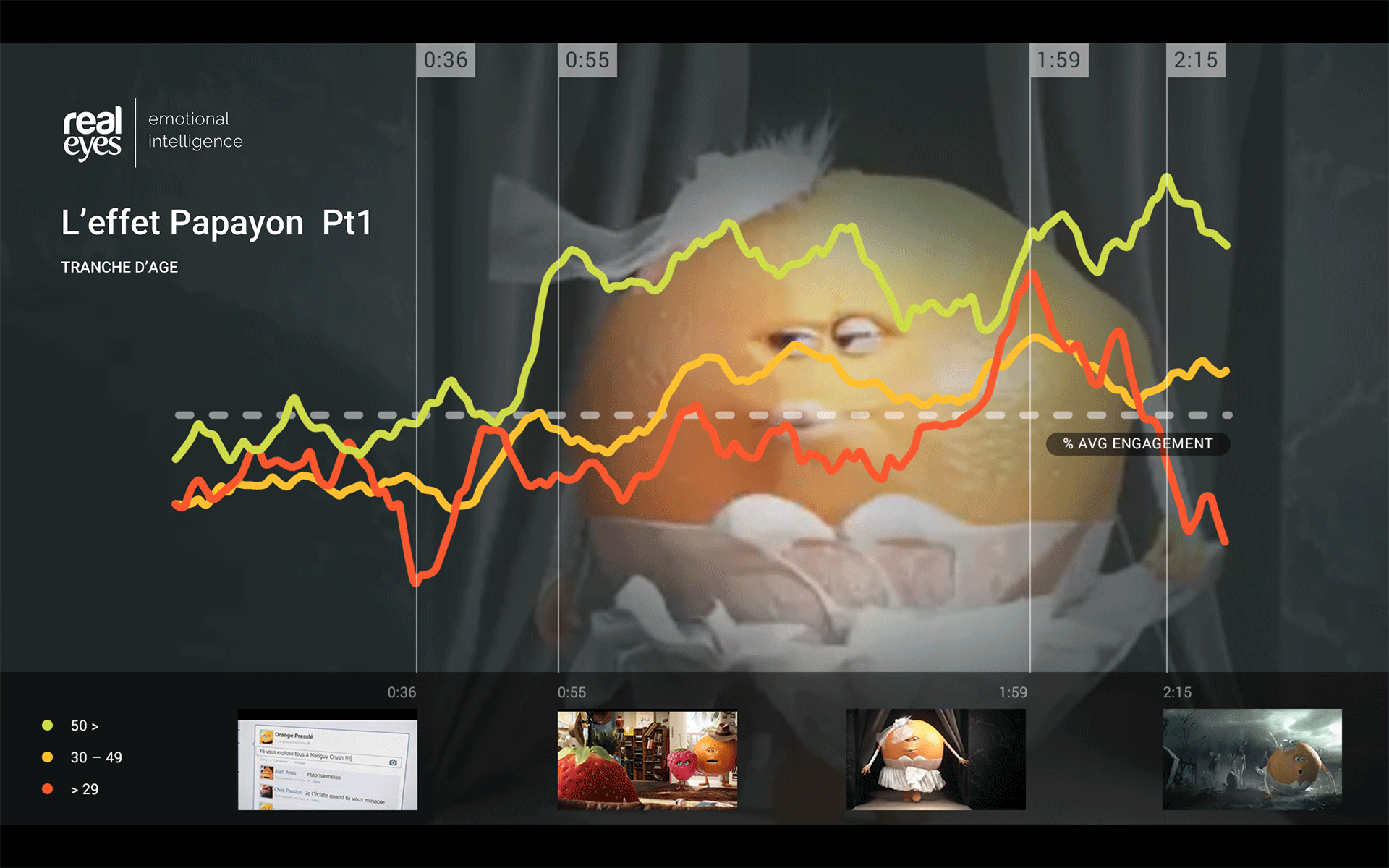 The Realeyes
EmotionAll® Score
enables you to assess the
social media performance
of your video before you launch or co-ordinate transmedia campaigns, as well as identify which audience the content resonates with. Once you have that intelligence, you can squeeze the juice from your video to maximum effect. Video testing with via facial coding and emotion tracking unlocks potential of your video.