How to Pull Off a 75-Person Company Offsite in VR
In December 2020, Realeyes employees from all over the world gathered for the company's annual offsite meeting. In previous years, this event has brought together our teams from offices in London, Tokyo, Boston, and Budapest, to meet at an exciting destination for several days of collaboration, connection, and teambuilding. This year was no different - with one notable exception.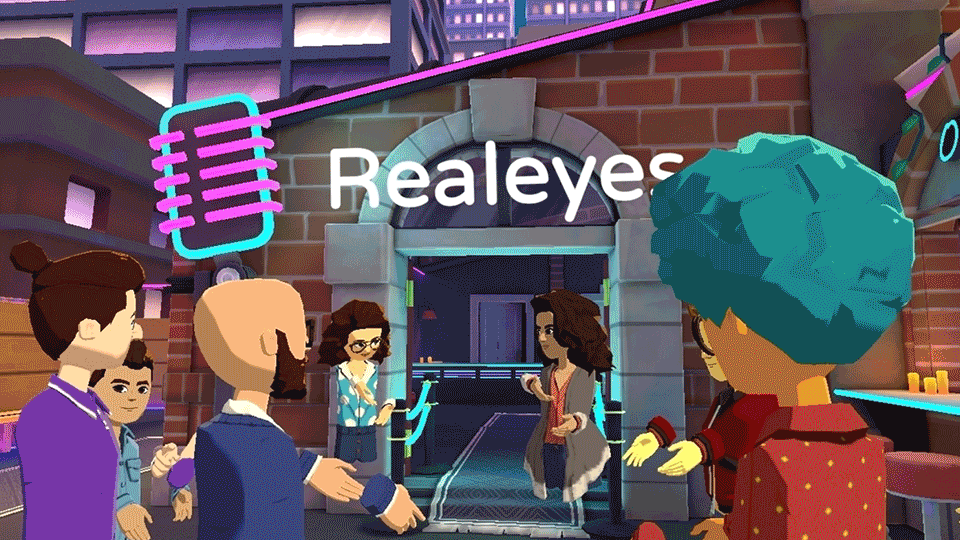 Realeyes' annual offsite for 2020 took place in virtual reality. Instead of flying our employees to a single destination, the company sent 75 of the new Oculus Quest 2 VR headsets to our employees across the globe. Realeyes employees convened for two days in a virtual conference hall developed by AltSpace to hear from executives, guest speakers, and most importantly to interact with colleagues.
After comparing the virtual offsite with what we typically experience in person, a few key takeaways stand out. Here's what you should consider if you're thinking about a VR event:
1. The initial investment - a cost-benefit analysis for travel versus VR
2. Equipment availability - technology procurement for both hardware and applications
3. The prep work - virtual event setup and logistics
4.The programming - compelling content and employee value
5. Employee engagement - best ways to bring employees together in smaller groups
6. The unique challenges - headset fatigue, and technical demands
7. Long-term considerations - what other problems can we solve with exciting new technology?
The investment
An Oculus Quest 2 VR headset (the standalone model, which doesn't need to attach to a PC or other hardware) costs about $299 retail. Compared to the cost of sending an employee on an international flight followed by several days of lodging and food, the cost/benefit analysis was obviously favorable for the company.
However, it took longer than we expected to secure the headsets, and if you're planning a VR event it's important to think ahead. That's especially true if, like Realeyes' event, yours takes place around the holidays when in-demand electronics can be difficult to source.
The Prep Work
Seemingly all of our Realeyes colleagues were impressed with our VR experience. The setup was not without effort, however. We hired a virtual event development team to help set up our "space" and make sure everything run smoothly. Most VR collaboration apps are only designed to support 15 people simultaneously. For our event, we needed significant customization in order to have 75 people (not including our special guests) interacting with each other in the same space.
The ability to converse with colleagues in what felt like proximity was surprisingly powerful after months of social distancing and isolation. Our employees were especially impressed with our breakout rooms and "proximity audio" which only allowed audio sharing when virtual avatars were standing next to each other. Instead of a bland conference room, our breakout rooms were designed as whole new worlds - a desert island, for example, or an industrial cityscape. The ability of small groups to engage with each other and brainstorm in these novel spaces was eye-opening.
The Covid-19 pandemic has changed so much about the way colleagues work together, and not all of it has been cheerful. Endless meetings and the tedium of working from home have been challenging for many and coupled with the inherent stress of delivering high-quality, technical work, employee burnout has been a real concern. Our planning of Realeyes' VR event had to take these sensitivities into account.
The Programming
Our virtual retreat reminded us that we're all part of one great, diverse team. Work connections are essential for productivity, and current technology allows us to bridge great distances and forge real connections. All of our employees at Realeyes deserve a lot of credit for persevering through these difficult times and being willing to try new things to advance our work and mission of creating a trillion more smiles.
Keeping the team tightly knit is essential to success, and I was proud to see everybody at Realeyes cheerfully take up the task. Realeyes leadership is dispersed around the globe, and so the ability to share space and experiences with each other is vital.
Our event programming included presentations from several Realeyes partners, including leaders from NEC in Japan, Google in the U.S. and Mars in Belgium. We continued our annual value awards, decided by peer voting. We introduced our updated company and product strategy, and shared case studies on innovative ways teams solved key challenges. We had breakout workshops, virtual happy hours and games.
We knew that we needed to include a variety of perspectives in order to keep people engaged, and likewise, we learned that programming in VR needs to be broken into shorter sessions to avoid the discomfort associated with prolonged headset use. We also learned that participants need frequent breaks to disengage and drink or eat, as it's difficult to do either while wearing a headset.
With our VR offsite, we were able to achieve our most important company goals for the event, while keeping costs down and keeping everybody safe during a public health emergency. We also learned that we have powerful resources and technology to support us in the face of disruption and adversity.
As we look to the future, we're likely at an inflection point for wide-scale technological innovation and business disruption. The pandemic has been hard on everybody, but our Realeyes offsite in VR taught us that good people with the right tools can still rise to the challenge.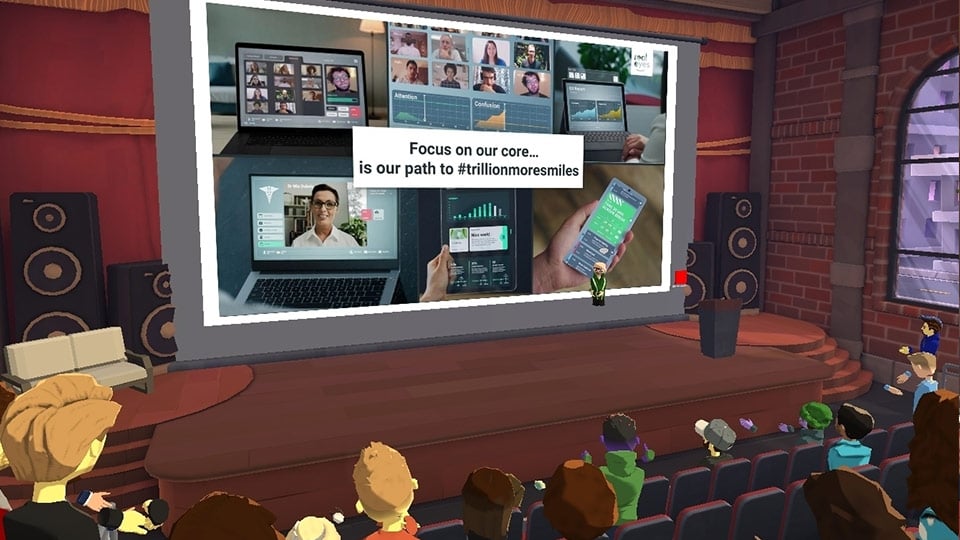 Here's to a trillion more smiles in 2021!