In the build up to the Super Bowl LII, while most are holding back, Anheuser-Busch InBev brands; Budweiser and Stella Artois have both featured their water aid initiatives within the pre game slots.
Budweiser's 60 second ad features the factory production line, when flipping a switch turns their iconic red and white branded cans in to a utilitarian white with blue "WATER" printed down the side. The soundtrack, a melancholic remake of 'Stand by Me' by Skylar Grey plays as the branded livery (a la Coca-Cola and Cadbury trucks) drives away, revealing the US areas that were hit by hurricane disasters last year. Budweiser has been running this initiative for decades but this is the first time it's ever featured around the Super Bowl.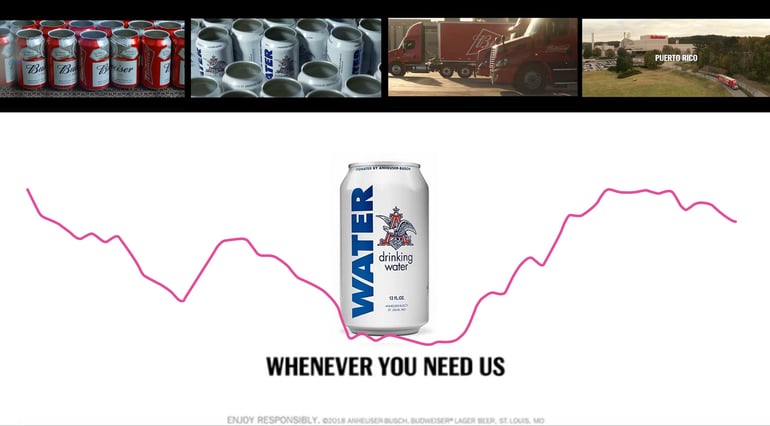 Young appeal
The 'King of Beers' along with other brewer giants like Molson Coors have witnessed a gradual shrinkage of market share - struggling to adopt younger consumers against the popularity of craft beers. Budweiser 'Stand by Me' scores an EmotionAll® Score of 6, however this ad shows promise as it scored a high 8 with under 29 year olds.

Similarly, AB InBev's Stella Artois launched their four-year partnership with Water.org in 2017 and their co-founder Matt Damon features their clean water initiative for developing countries in this pre Super Bowl ad "Taps". This 30 second video is much of a typical charity ad, with edits of poverty stricken people walking miles to reach water.

Colgate toothpaste ran a similar campaign which featured in 2016's Super Bowl with #everydropcounts, which transitioned from a domestic tooth brushing scene a to a child desperate for water cupping her hands to drink from the tap. Both of these ads didn't yield high overall scores, but they both resonated more with younger and older segments, it was the lowest performer ranking at 72nd position.
Emotional connection
Perhaps this is a somewhat sombre, and somewhat sober start to the big game but big Brands have learned that they need to make a deeper connection with it's audience – it's not just about product, it's about purpose and values. It's about establishing an emotional connection that goes beyond a one-off engagement. Emotions move people, they inspire people and emotional content is what helps brands connect consumers with their values, but partnering with a charity is no guarantee of success. This is not a case of 'just add water', it's also how the story is told.

Problem vs Solution
A significant difference between these two beer ads is that Budweiser focuses on the solution while the Stella Artois/Water.org ad uses footage to illustrate the problem. Both Stella's 'Taps' and Colgate's #everydropcounts use consumer guilt as a motivator to act, whereas Budweiser is all about the solution, philanthropy without a difficult message to swallow.