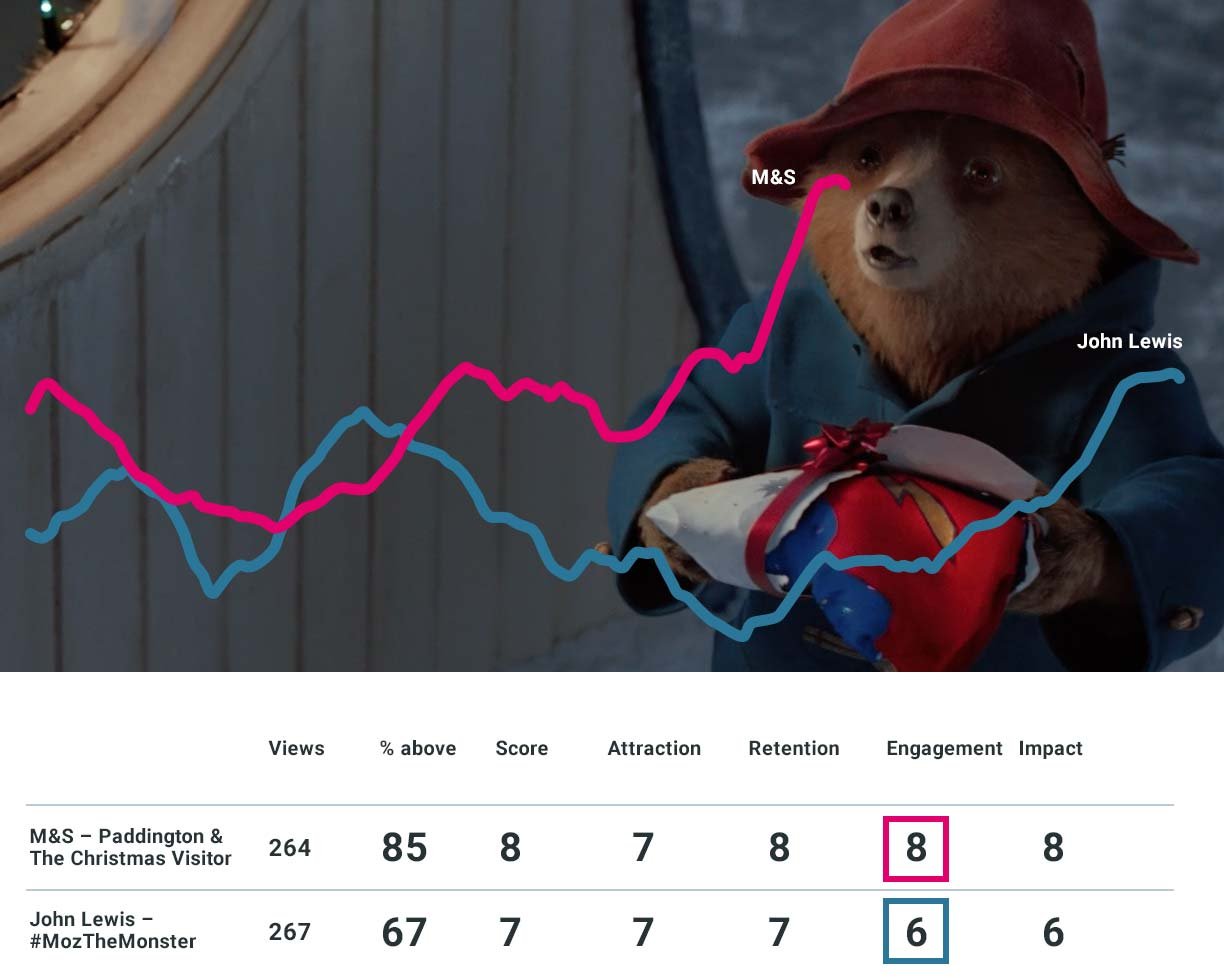 Most of the key UK retailers have released their Christmas ads and Realeyes has tested them all to name a winner - the most engaging ad with viewers.

The most anticipated ad of the season – the one by John Lewis was released last week. Following the huge success of past years' such as Buster the Boxer and Monty the Penguin, the pressure on Moz the Monster was undoubtedly high. Did Moz manage to deliver? You'll be the judge.
Our test of #MozTheMonster
showed that it came out scoring 6th compared to the previous seven years of John Lewis Christmas ads.
But what about this year's Christmas ads by other brands? There's a wonderful variety of styles and creative concepts to enjoy. However, there're some recurring themes as well: beautiful romantic love stories by both Debenhams and Vodafone; everyday life shown by Tesco, Lidl, and Talk Talk; high-speed delivery promoted by both Argos and Amazon; company's employees starring in Sainsbury's and Currys Christmas campaigns. And then, of course, two major contenders of the Christmas ad race – the Monster and the Bear. Both John Lewis and Marks and Spencer went for special characters to unite the whole family around them, highlighting family values. Which one managed to create more emotions and engagement though? We ran creative testing using emotion recognition tchnology to find out.
Having measured emotional response of the viewers, we can now reveal the results of the race between these two lovely creatures. Based on emotion measurement, Paddington the Bear is winning this run! With an EmotionAll score of eight, Paddington is one confident step ahead of Moz the Monster (see the figures below). The M&S ad is better than 85% of all the ads in our database, while the John Lewis ad is 67% better. These results are matched by the performance of the two ads: according to
Campaign
, M&S campaign achieved 159 957 social engagements within the first 12 hours, while John Lewis accrued 74,039 engagements within 12 hours.