Why Realeyes Holds SOC2 Certification & What It Means for You
In an age where data is the lifeblood of businesses, trust and security are paramount. As a data company, we understand the critical importance of safeguarding your data and ensuring its confidentiality, integrity, and availability. That's why we proudly hold SOC2 certification.
Realeyes successfully completed a System and Organization Controls (SOC) 2 Type 1 audit, performed by Sensiba LLP (Sensiba). Developed by the American Institute of Certified Public Accountants (AICPA), the SOC 2 information security audit provides a report on the examination of controls relevant to the trust services criteria categories covering security, availability, processing integrity, confidentiality, and privacy.
A SOC 2 Type 1 report describes a service organization's systems and whether the design of specified controls meets the relevant trust services categories at a point in time. Realeyes's SOC 2 Type 1 report did not have any noted exceptions and was therefore issued a "clean" audit opinion from Sensiba.
SOC2 Certification
SOC2, or Service Organization Control 2, is a rigorous certification developed by the American Institute of CPAs (AICPA). It focuses on the security, availability, processing integrity, confidentiality, and privacy of customer data. Achieving SOC2 certification requires a comprehensive evaluation of our controls and processes to ensure they meet or exceed industry standards.
Why We Pursued SOC2 Certification
Data Security Commitment: We are committed to the highest levels of data security. SOC2 certification demonstrates our dedication to safeguarding your sensitive information.
Client Trust: Your trust is invaluable to us. SOC2 certification is an external validation that we take data security seriously, which enhances your confidence in our services.
Regulatory Compliance: SOC2 aligns with various industry regulations, ensuring that we remain compliant with data protection laws, which can be crucial for clients operating in regulated industries.
Risk Mitigation: By systematically assessing and improving our security controls, we minimize risks associated with data breaches, ensuring our services are resilient and reliable.
| | | | | |
| --- | --- | --- | --- | --- |
| | | | It focuses on the security, availability, processing integrity, confidentiality, and privacy of customer data. | |
What SOC2 Certification Means for Our Customers
Enhanced Data Security: SOC2 certification means that your data is stored and processed within a secure environment. We have robust controls in place to protect against unauthorized access, and data breaches.
Improved Reliability: With a focus on processing integrity and availability, SOC2 ensures that your data is available when you need it. It minimizes the chances of service disruptions and data loss.
Data Privacy: Our SOC2 certification also covers data privacy, ensuring that your sensitive information is handled with the utmost confidentiality and compliance with relevant privacy regulations.
Peace of Mind: Knowing that we are SOC2 certified should provide assuredness having undergone rigorous audits and assessments to prove our commitment to data security and privacy.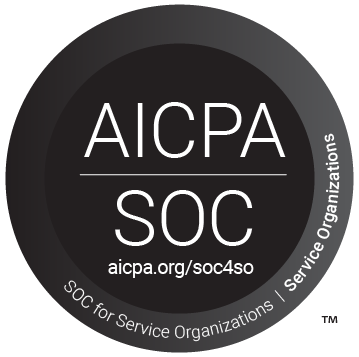 Our SOC2 certification reflects our unwavering commitment to data integrity and security. It is a tangible demonstration of our dedication to providing you with the highest level of service while ensuring your data remains safe and protected.