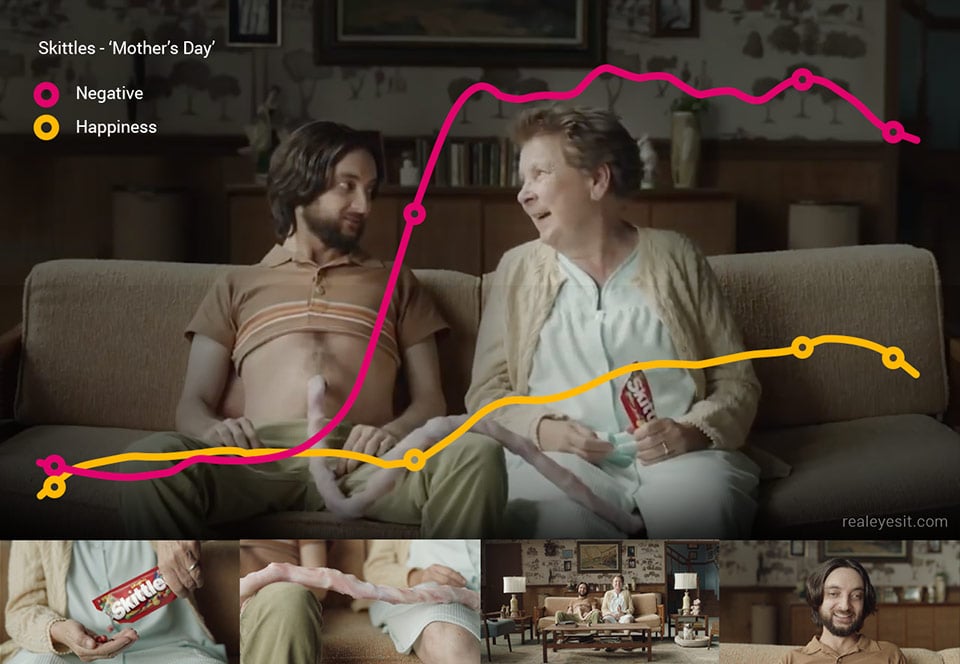 In the highly competitive world of brand communication, creative risk-taking is commendable. But there's small print: it's only great when things go right, and the risk pays off. But what if they don't? This Spring has brought an unusually high number of provocative campaigns from renowned brands: Pepsi 'featuring Kendall Jenner', McDonald's 'Bereaved Child' and Skittles 'Mother's Day' - which had to be pulled due to the public outcry.
In all these cases things didn't go according to plan, the videos had to be withdrawn one day after airing, and a question everyone was asking was "just how the brands of such size, influence, and with multiple levels of internal control could make such a misjudgment?" We at Realeyes keep wondering too. It's because just ONE simple emotion measurement test* shows a brand owner clearly how a video would perform and what viewers would FEEL about it. And why (sometimes) the very idea of running it should be questioned, like in the case of this Skittles commercial.

Take a look at the emotion chart. There are two emotion traces, Happiness and Negative for the infamous Skittles Mother's Day (aka Umbilical Cord) video, which was withdrawn. The start is neutral, but notice a steep growth in negativity at 0:10 and how it's held until the very end, with the video finishing on a high negative note.

What decision would you make if you were a Skittles brand owner?
It only takes one test to save your media placement budgets and avoid a brand faux pas. Using facial tracking and emotion recognition for ad testing ensures performance of your videos.

*Sample: 355 Views, General Population 18-65 yrs, UK.