Key Takeaways From Teads' Attention Summit, Featuring Measurement Leaders From Mars, Dentsu Aegis, Realeyes and Teads
Earlier in July, Teads held its online summit ALL EYES ON ATTENTION: SHAPING THE FUTURE OF ADVERTISING, dedicated to measuring and managing attention in advertising.
Industry leaders in attention measurement shared their views on why attention is key for today's brands, how attention can be measured, and how it relates to ad effectiveness. They also discussed how to design ads to capture attention along with how we will soon be planning and buying ads based on attention.
"No dollars to be wasted on irrelevant and not viewable ads" - Monika Cerqueria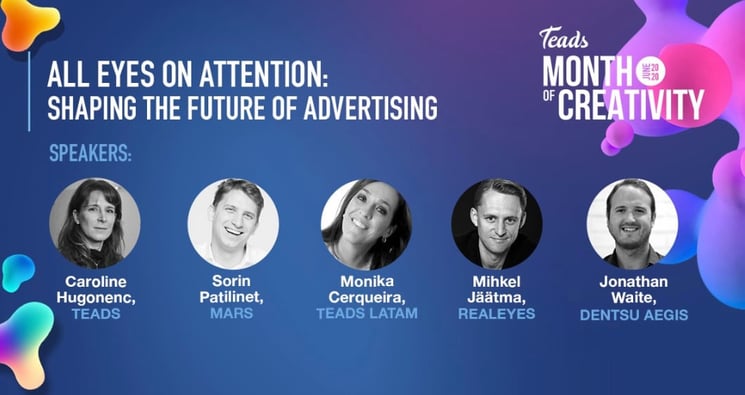 PARTICIPANTS

Caroline Hugonenc, Global VP Research & Insights, Teads

Sorin Patilinet, Global Marketing Insights Director, Mars.Inc

Monika Cerqueira, Head of Teads Studio, Teads

Mihkel Jäätma, CEO, Realeyes

Jonathan Waite, Senior Director - Global Media Partnerships, Dentsu Aegis
Key Findings
Attention Is Critical for Marketers: Capturing audiences attention is the first step towards better communication.

Key Drivers of Attention: Main drivers to capture attention are: creative fit adapted to the channel, quality of context/environment, right targeting, limited clutter, creative placement and audio.

Embrace Different Formats: It's crucial to understand how each ad format works and how to optimize creative and media decisions based on attention.

Pre-test Before Going Live: Pre-testing based on attention and emotion provides the potential performance of both creative and media. Comparing creative performance against benchmarks, knowing the moments which retain or lose attention and seeing how audience engagement is aligned to ad duration and it's environment.
Why Attention is Key for Brands
We live in the age of distraction and attention is the gatekeeper to an ad's success. Without audience attention, everything else is secondary. "On average, a consumer is exposed to 500 brand messages per day," said Sorin Patilinet, Global Marketing Insights Director at Mars.Inc. Understanding the power of attention to ensure that your message cuts through is essential for today's brands.
"It is crucial for marketers to master attention and what drives attention because it is the first step to better communication"- Sorin Patilinet
How to measure Attention
In recent history, the ad industry has begun to intensively research solutions to measure attention with view-through-rate (VTR) used as a common metric. View-through-rate, is a proxy metric, which enables marketers to gain feedback on the number of completed views compared to the number of impressions.
However, industry leaders are shifting towards a better understanding of attention. Jonathan Waite, who's leading the Dentsu Aegis Attention Economy Program, looks more closely at what underscores the quality of attention.
Attention quality encompasses two factors, the first is the duration of the view, but also how attentively the viewer is watching the content (on-screen/off-screen etc). Realeyes has developed an attention metric that can interpret audience's attention the same way a human would do.

Using computer vision and machine learning, behavioural cues such as eye movements, blinking, yawning and distracted head movements such as looking away from the screen are classified. Testing a sample audience enables brands to see whether audiences are paying attention or not, as well as seeing the exact moments that create a rise or fall in engagement before their ad goes live.
"The longer someone stays with a content then there is something in that content that sticks. With our content, we look at attention curves and emotion curves to understand why." - Sorin Patilinet
"Pre-testing is a very powerful tool." - Monika Cerqueira
How Attention Relates to Ad Effectiveness
If an ad is poorly executed, it's unlikely that a brand is going to earn audience attention. Pre-testing ads, using attention and emotion metrics enables brands to immediately see how well the ad performs against benchmarks and understand the key moments that powered that performance.
"We're still in the phase of understanding what creative elements drive attention because we know that, that attention, will drive sales."- Sorin Patilinet
"As a media practitioner, I can play with targeting, content, context, device, all those things are about where I place ads. Getting the basics right is crucial. Getting the format in a correct environment is important." - Jonathan Waite
"We think of attention as a very limited resource and that we decide to devote ourselves to something that looks more relevant, in a micro-moment. Marketers must convince the audience to devote their attention to their messaging/brand content, in a micro-moment." - Monika Cerqueira