#PressForProgress is the theme for International Women's Day that falls on March 8th every year – a global reminder of the momentum that's striving for gender parity. Twitter's new #HereWeAre campaign features a poem written and performed by Denice Frohman, "I heard a woman becomes herself the first time she speaks without permission".
Created in-house by Twitter, the 60 second spot features moving portraits of women aged 20 to 80, set in a photographic studio, shot in black and white with the overlayed subtitles, a little reminiscent of Gillian Wearing's 'Signs'. There's also plenty of cameos including filmmakers Ava DuVernay and Julie Dash; actress-writer-director Issa Rae; and documentary filmmaker and activist Jennifer Brea.
We stand with women around the world to make their voices heard and their presence known. To bring them front and center, today and every day. Join us as we say #HereWeAre pic.twitter.com/cN2Ik6bZU8

— Twitter (@Twitter) 4 March 2018
From an emotional performance perspective, it doesn't retain high engagement throughout. There's a notable dip once the poem's rhythm changes by the line, "If this poem is the only thing that survives me" and doesn't quite recover from this blip in engagement.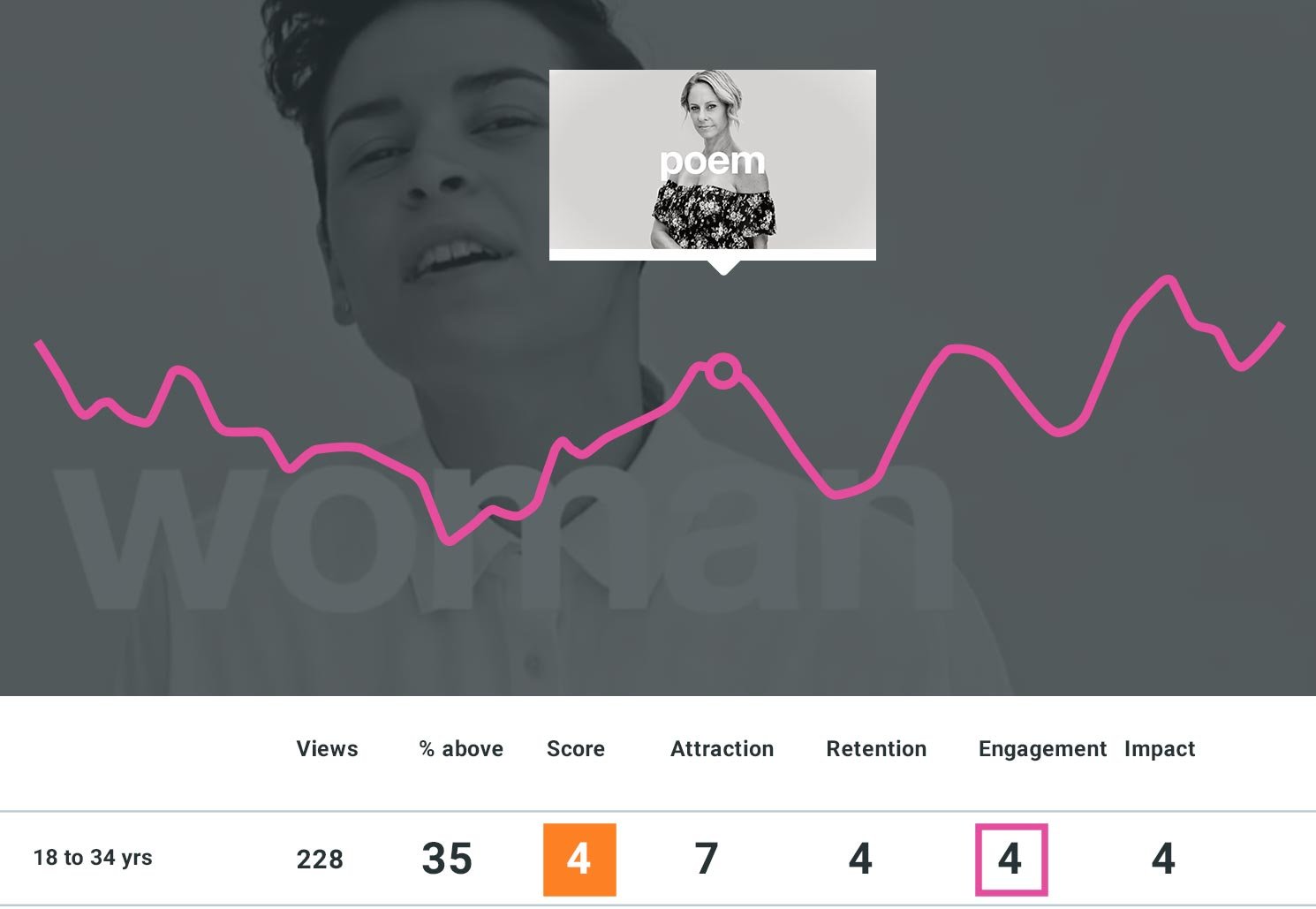 The ad resonates more with those aged over 35 years. The younger demographic were more engaged within the first 10 seconds but didn't retain high engagement until the rhythm of the poem picked up pace with the "tell them" stanza.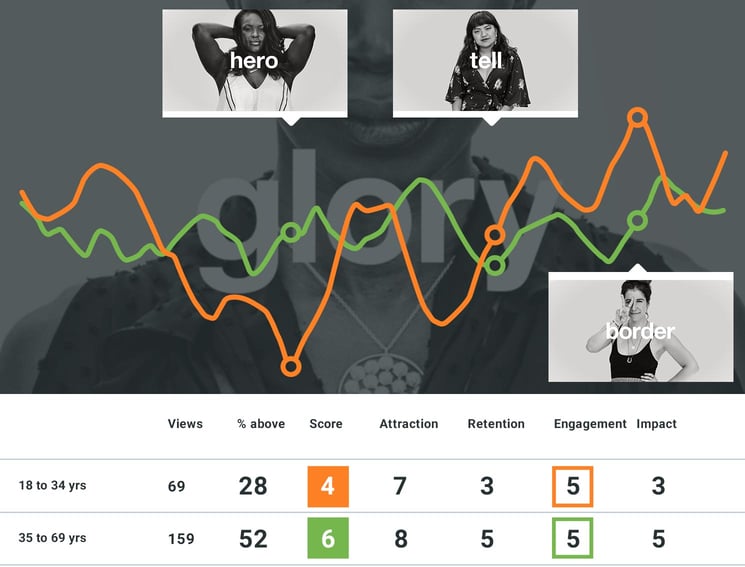 Men scored higher in both Retention and Impact metrics, which meant that overall women didn't emotionally engage as much. The sequencing of peaks and troughs suggest that certain moments somewhat polarised engagement by gender.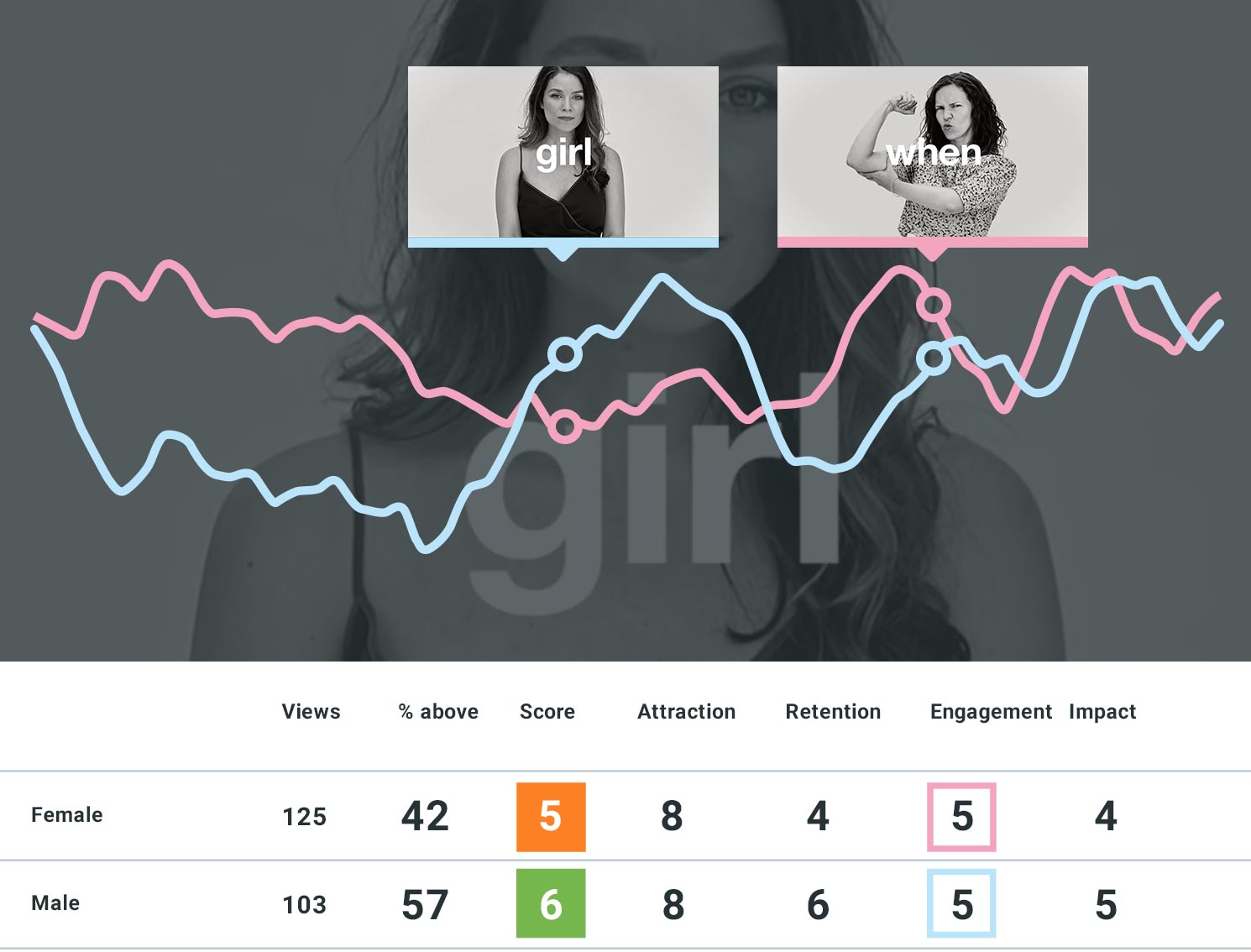 This video is very much a contribution to a bigger movement, a campaign that goes beyond Twitter. Airing this ad during the Oscars was a profound media planning manoeuvre following Hollywood's recent sexual harassment scandals that created #MeToo and #TimesUp, along with the World Economic Forum's Global Gender Gap report too.
Twitter has managed to capture the moment if not the magnitude of inequality, reporting a 50% increase in conversation around the topic of women's rights and gender equality over the past six months. All of this alongside the 100th anniversary of the Representation of the People Act 1918.
In 2014, feminine product brand Always used the insult #LikeAGirl to show how such a phrase can have a huge neagtive impact on a girl's self-confidence. This over three minute video scored 9/10, engaging all demographics.