If you've seen Uber's inaugural ad 'Effortless Night' by Creative Agency BBH, there's something captivating about watching these two protagonists dance from scene to scene, or should I say Uber to Uber? As we can put

numbers to emotions, we were curious to see what it was that makes this a dance to remember.
A nod to 1950s musicals a-la Westside Story or Singin' In the Rain, the story captures the awkward and somewhat clumsy moments of dating while they seamlessly pass through the date scenes making it a feel-good spot that sees
happiness
build and reaching a positive climax as they dance in the rain together. Even without looking at the actual ad, the chart line shows that it's a well executed story.
Now, this is where it gets interesting. We see that men are more attracted to the ad at the beginning but then their mood declines. Within the first 20 seconds it doesn't look very promising when the guy shows his goofy moves. The
happiness
chart suggests that other guys have been there too as male happiness drops and women are entertained as their happiness builds.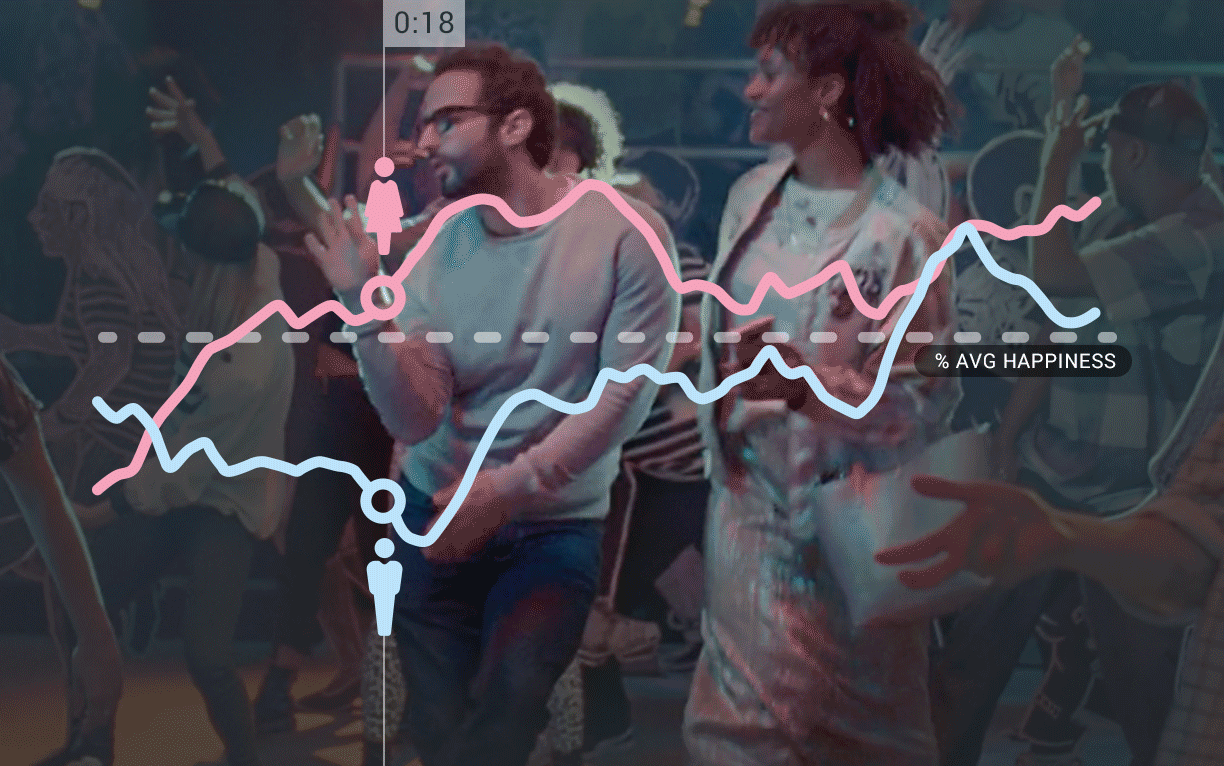 As the night progresses, men's happiness soon recovers, and women enjoy the dominant female character as she leads the dance and throws a few forceful moves to get him in to the Uber (0:29). Additionally it's interesting to see at 0:37 that male
Surprise metric
soars as the female protagonist throws her handbag in to his chest and playfully pushes his head in to the Uber. At 0:49 seconds, just before the final brand sting, we witness perfect harmony as they dance together in the rain.
An
EmotionAll® Score
of 7/10 suggests that the spot doesn't evoke intense emotions, but it perfectly manages to catch audience attention, keeps them engaged throughout and has impact. Women simply weren't given any surprises here which has kept the Attraction score way below average, but it delivers in all other areas.
Interestingly, it shows a higher
EmotionAll® Score
for men than for women - are men more excited about date nights? And look at the perfect 10 for Attraction!
Attraction metric
denotes whether the video manages to grab the viewer's attention by measuring the peak in Surprise within the first 8 seconds of viewing. Is this the thrill of the first date typical to most blokes?
Overall, well done Uber. You've put the best foot forward with your first ad and engaged with both genders on this first date, effortlessly.
Using emotion measurement for creative testing ensures your ad performance.