Visual Attention Tech Decodes Impact in Mobile Environments
What You Need to Know
Realeyes integrates eye square, enabling first solution to measure visual attention and emotional reactions in live mobile environments
Advertisers get actionable analytics revealing the power of their ad creatives to grab attention in media environments like Meta, YouTube, TikTok, Snap, Hulu and Netflix
Realeyes PreView tech supports 2 winning papers at the Advertising Research Foundation's

AudienceXScience conference

April 26
Addressing the Digital Blind Spot with Attention

We're delighted to announce today the latest release of our PreView advertising intelligence technology. As the headline implies, this is truly next-generation visual attention measurement enabling advertisers to understand the efficacy of their ad creatives and placements in live digital media environments.
This product release answers the growing demand for attention metrics along with the needs of our valued advertising partners to drive more effective advertising at the intersection of creative and media.

PreView solves a growing blind spot among the world's largest advertisers as they allocate a majority of their spend to mobile media and CTV: validating ad creatives at scale in natural, distracting environments, while optimizing placements for human attention and better business outcomes.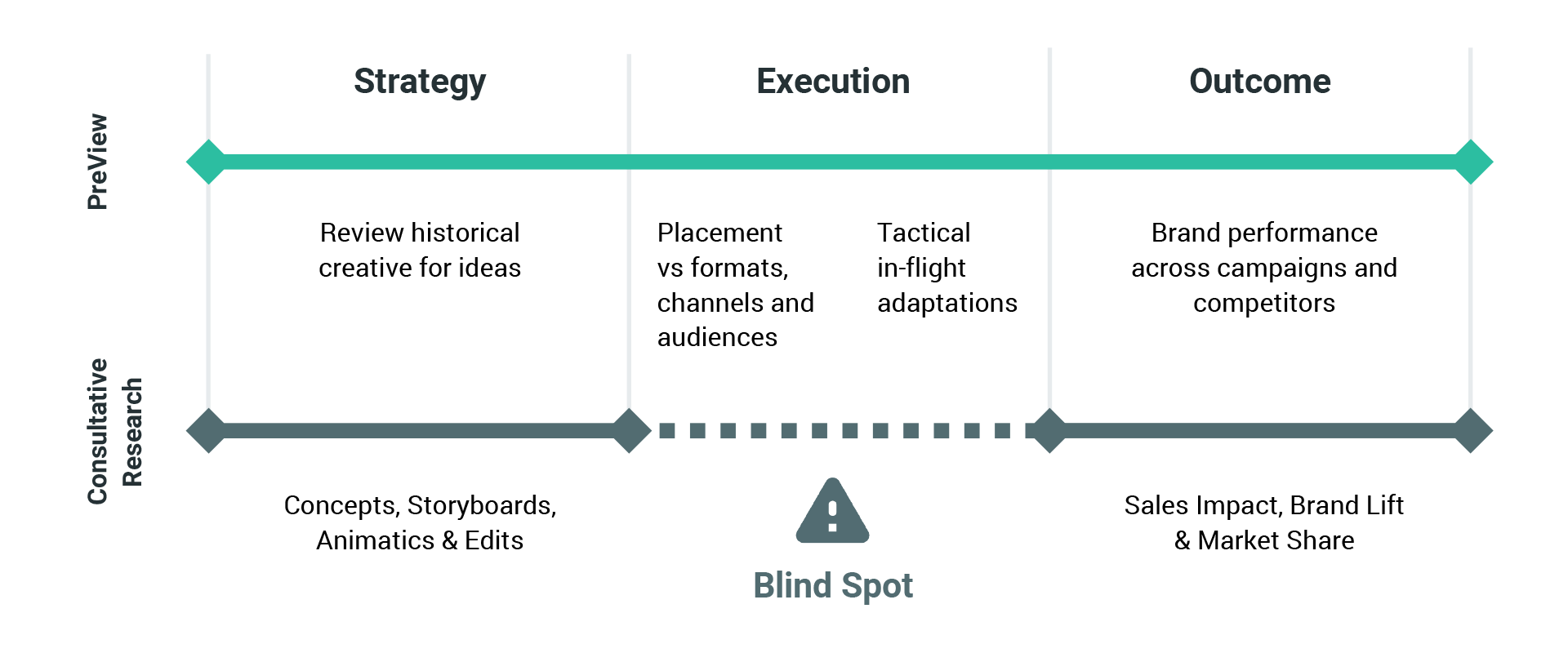 Visual Attention and Emotional Reactions Measured in Context for the First Time
The PreView system is enabled through Realeyes' award-winning patented attention and emotion AI, along with live-in-context testing technology, provided by eye square, the industry standard among market research and UX professionals. PreView uses front-facing cameras to detect visual attention and reactions of opt-in viewers as they watch video content online, within live media platforms on mobile, desktop and other devices. It's an elegant system, and it simply works.
The system provides three pillars of intelligence to validate creative effectiveness and optimal placement in today's leading digital media platforms:
Breakout: how well does a brand's creative breakthrough and earn Positive Attentive Seconds by actual humans, from within natural, distracting environments the subjects use?

Reactions: once breakthrough is accomplished, how well does a brand's messaging retain visual attention over a video's duration while achieving positive and negative facial and device Reactions?

Brand Equity: after ad exposure, how well do viewers recognize the brand, recall the ad, trust the brand, and like the ad?
Attention Globally at Scale
Built for global scale, PreView is capable of testing and validating an unlimited number of creatives and media placements, simultaneously, in over 80 markets. A single test unit includes validation of a creative asset (video or image) within three digital media environments, tailored to a campaign's audience and objectives.

Conventional copy testing and surveys remain critical for informing advertising strategy and delivering big-picture brand insights, though these methods struggle to address the practical activation of high volumes of native video formats, creative variations and placements across platforms. Consequently, a majority of creatives and placements go untested and are never optimized for human attention. This represents a loss of billions of dollars in performance gains, along with inferior consumer experiences. We all must do better!
| | | | | |
| --- | --- | --- | --- | --- |
| | | | PreView's emphasis is on must-have cross-platform analytics for campaign decisioning, activation and effectiveness | |
Attention Metrics = Effectiveness
Attention metrics are attractive to advertising leaders because they have strong relationships with business outcomes, the Holy Grail of effectiveness. They're especially useful for middle- and upper-funnel campaign objectives because they provide pre- and mid-flight signals to optimize performance at the campaign level.

For example, Realeyes and Teads found that a 5% increase in creative attention can result in a 40% lift in brand awareness. Realeyes also learned, in a study with a major consumer electronics manufacturer, that high attention yields a 55% lift in shopping conversions. And Realeyes' partner Mars Inc. found that creative attention metrics drove up to 18% incremental sales lift in 19 markets, along with $30 million in ad optimizations in 18 months.
Best Attention Technology = Better Data Quality
If you're unfamiliar with Realeyes, you should know we earned a reputation as the best-in-class visual attention and facial coding technology, whose accuracy is nearing that of real humans and outperforming all other competitors we're aware of. In fact, we just submitted over 10 scientific validation studies for the ARF's attention validation project now underway.

Being a leader in computer vision has other advantages, like enabling us to radically improve audience sample quality by over 25% versus market average by removing fraudulent and duplicate participants. This all trickles down into higher data quality at a lower price for our partners.
Attention Tech Awards & Validations
Our PreView product is earning recognition, including two winning 2023 ARF AudienceXScience papers which will feature groundbreaking achievements with our partners Meta and Mars on April 26. It also was a winner of the most recent I-COM Data Creativity Awards, David Ogilvy Awards, ANA Marketing Technology Awards, and SIIA CODiE awards. The company holds 20 patents, including for attention technology based on a "computer-implemented system and method for determining attentiveness of users" in digital video.

It's Time to Get Started with Visual Attention Metrics
PreView's emphasis is on must-have cross-platform analytics for campaign decisioning, activation and effectiveness – less so on lengthy PowerPoints filled with nice-to-have insights. Impact is fast.

We stand by our PreView product and encourage you to give it a try. It will pay for itself by making your advertising more effective, while providing intelligence that makes you a smarter marketer.