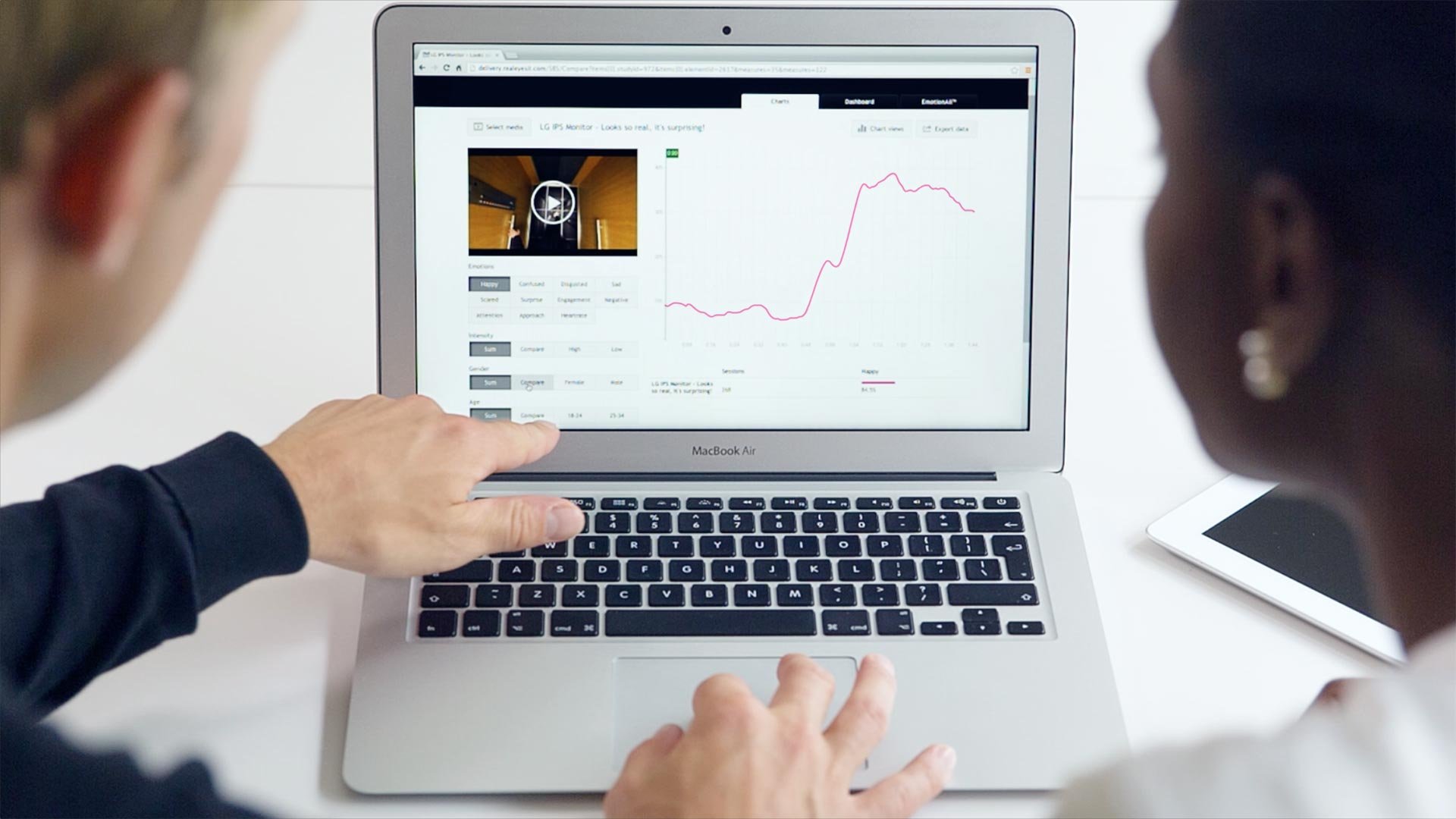 What Can Emotion Analytics Do for Me? A Look at Creative Testing
With video projected to account for 79% of all internet traffic by 2020, brands are looking for the best tools to create high-performing content confidently.
Realeyes' emotion insights platform is used by brands such as Coca-Cola, Disney, eBay, Hershey's, HSBC, Mars Incorporated, Turner and many others to optimize their marketing strategy.


Whether you're a CMO, brand director, insights director, creative director, social media manager, or with brand video content in any other capacity, emotion analytics can be applied to your everyday work.
We'll start with the most popular -
creative testing
.
Imagine, you have produced a short-form video, perhaps a TV ad, a movie trailer, a feature for social media and it's ready to go live. You need a final quality assurance to answer the questions:
1. Is the video worth airing?
2. Will it be competitive?
3. Does it resonate with my target audience?
4. If I have a few versions, which one to go for?
5. Am I about to step on a banana skin?

Using traditional research methods, these questions aren't so easy to answer. Let's have a closer look.
Is the video worth airing?
The CEO may love it, the focus group may be undecided but emotion measurement cuts through such subjectivity so you can launch your video with a strong expectation of how it'll perform. In a world of ever-growing video content, breaking through the 'crap trap' of bad content can be challenging. Emotional engagement is key to video performance; our
EmotionAll® score
shows how successfully your video will emotionally engage with viewers.
Will it be competitive?
Every video tested is compared against the
norms
within a certain industry or product category. The norms are continuously updated as more videos are tested. This provides a context in which your video will be competing.
Does it reach resonate with my target audience?
You know exactly what your audience is, but does your video reach out to them? The same ad can tell a different story to a man or a woman, to a 25 or a 55 year old. Emotion insights reflect a genuine perception of a video by different groups to help you be sure the video does its job. Like in this
Uber example
.
I have a few versions, which one to go for?
You may have several versions of the same video with different lengths or different endings and you need to choose the best one. A second-by-second graphic representation will show an emotional journey you'll be taking your viewer on, enabling you to decide which one creates a stronger impact.
Am I about to step on a banana skin?
As well as avoiding waste, you can also avoid significant risk. This year, we've seen major brands like Pepsi, Skittles, and McDonald's make significant creative faux pas leading to their ads being withdrawn due to public outcry.
We tested Skittles
, and the graphs showed exactly how negatively the audience responded and why it wasn't wise to air.