World Cup Promos Driving Above Average Attention, Emotional Response
The World Cup taking place in the winter is a once-in-a-lifetime occurrence, but broadcasters NBC Universal and Fox are not complaining; viewership is way up and the latest US match, aired on Black Friday, broke the US record for the most viewed soccer match in history (24.7 million for both broadcasters combined).

The fact that games are happening during a school and work break surely helped ratings, but we also wanted to gauge overall excitement and attention paid to the tournament by studying promos for Fox and Telemundo to understand how well each network is driving viewership of this highly anticipated sporting event.
Triangulum and Realeyes tested two promos from each broadcaster to understand how well each network is driving viewership of this highly anticipated sporting event, using Triangulum's newly released creative testing solution.

---
Here's What We Found


Attention & Emotion is High, Even Among Non-Soccer Fans
Attention and emotion are high, even among non-soccer fans. The World Cup promos captured the audiences' attention while garnering higher-than-average responses in emotional engagement (viewers' non-verbal expressions) and sentiment (using emotional language to describe their reaction to the ad).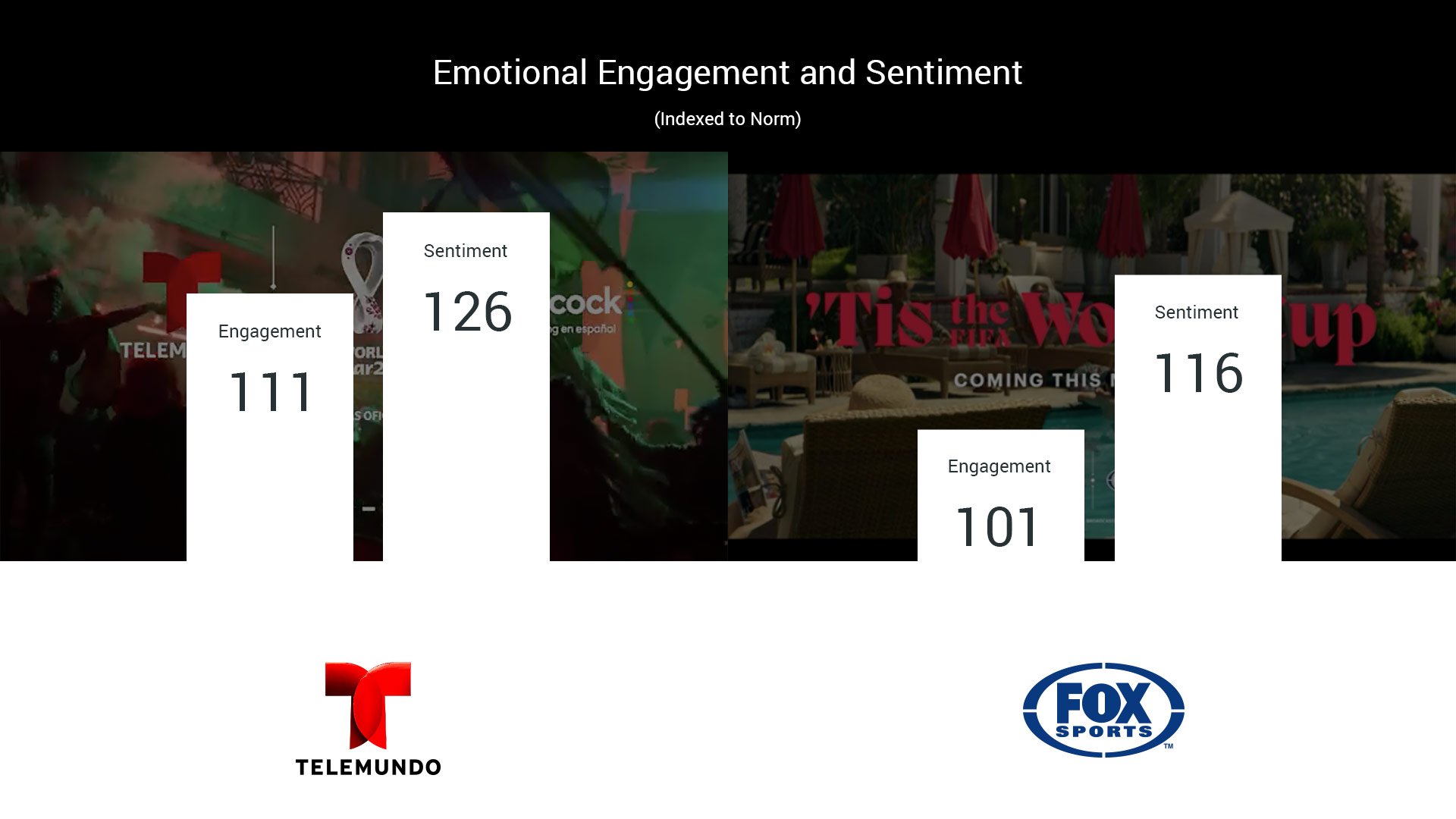 Celebrities Retained Attention for Fox
Jon Hamm as Santa Claus quickly captured attention, while game highlights from both global and U.S. soccer stars (Lionel Messi, Cristiano Ronaldo, and Christian Pulisic) drove attention even higher. Celebrity cameos (Tom Brady, Mariah Carey) featured immediately after those peaks helped retain attention throughout the ad.
Network Brand Breakthrough Diverges
Telemundo/ Peacock promos were 10 times more likely to drive branded attention. Telemundo featured its logo prominently at the beginning of its ads and used Telemundo and NBC TV personalities throughout the ad while Fox's only featured a modest logo at the end, which likely affected recollection.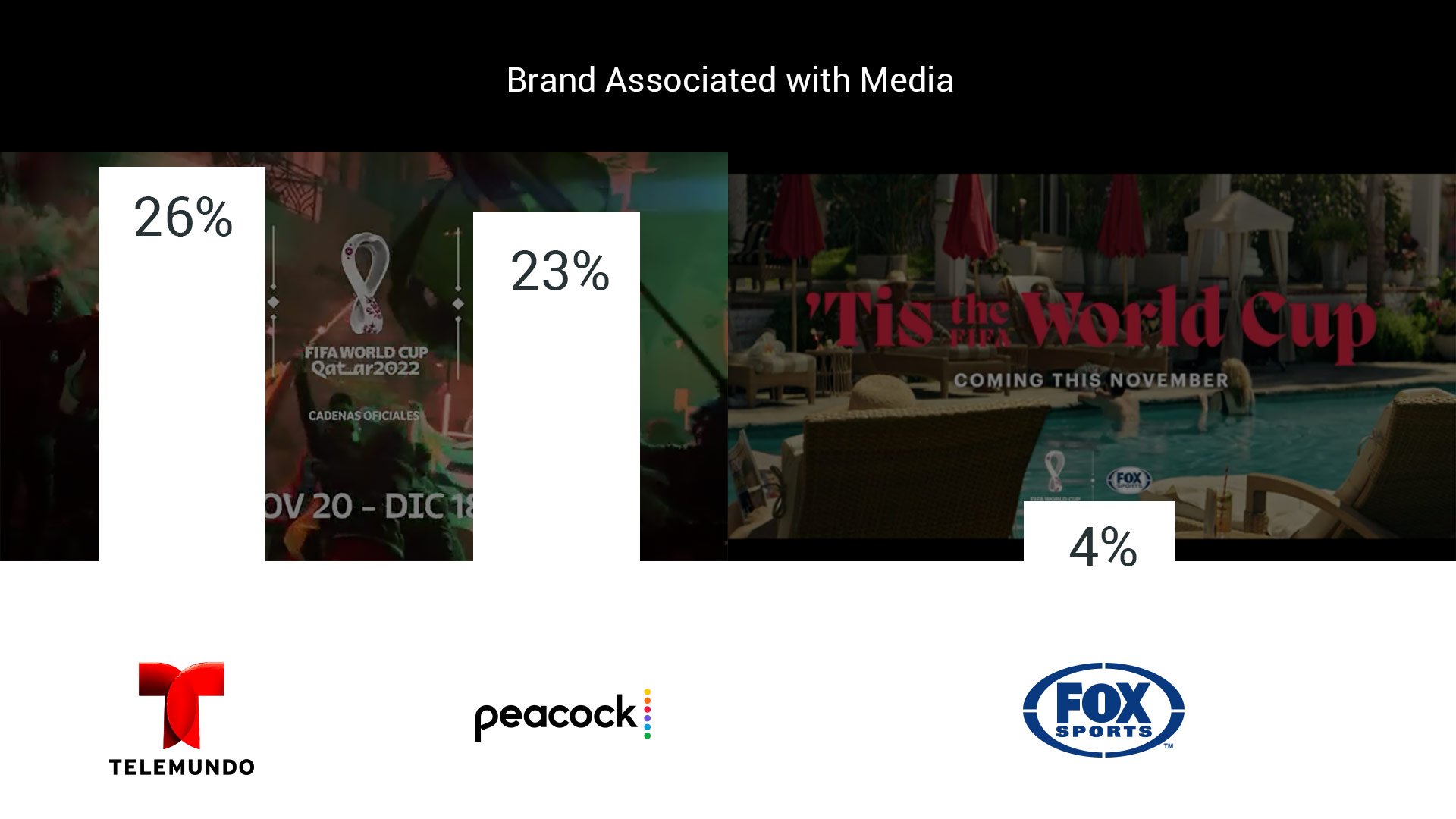 NBCU is a Big Winner with Telemundo Promos
The Peacock and Telemundo brands were equally prominent after watching the co-branded promo, suggesting that the ads are successful in educating audiences about how and where they can catch games, including broadening awareness of the younger streaming platform, Peacock.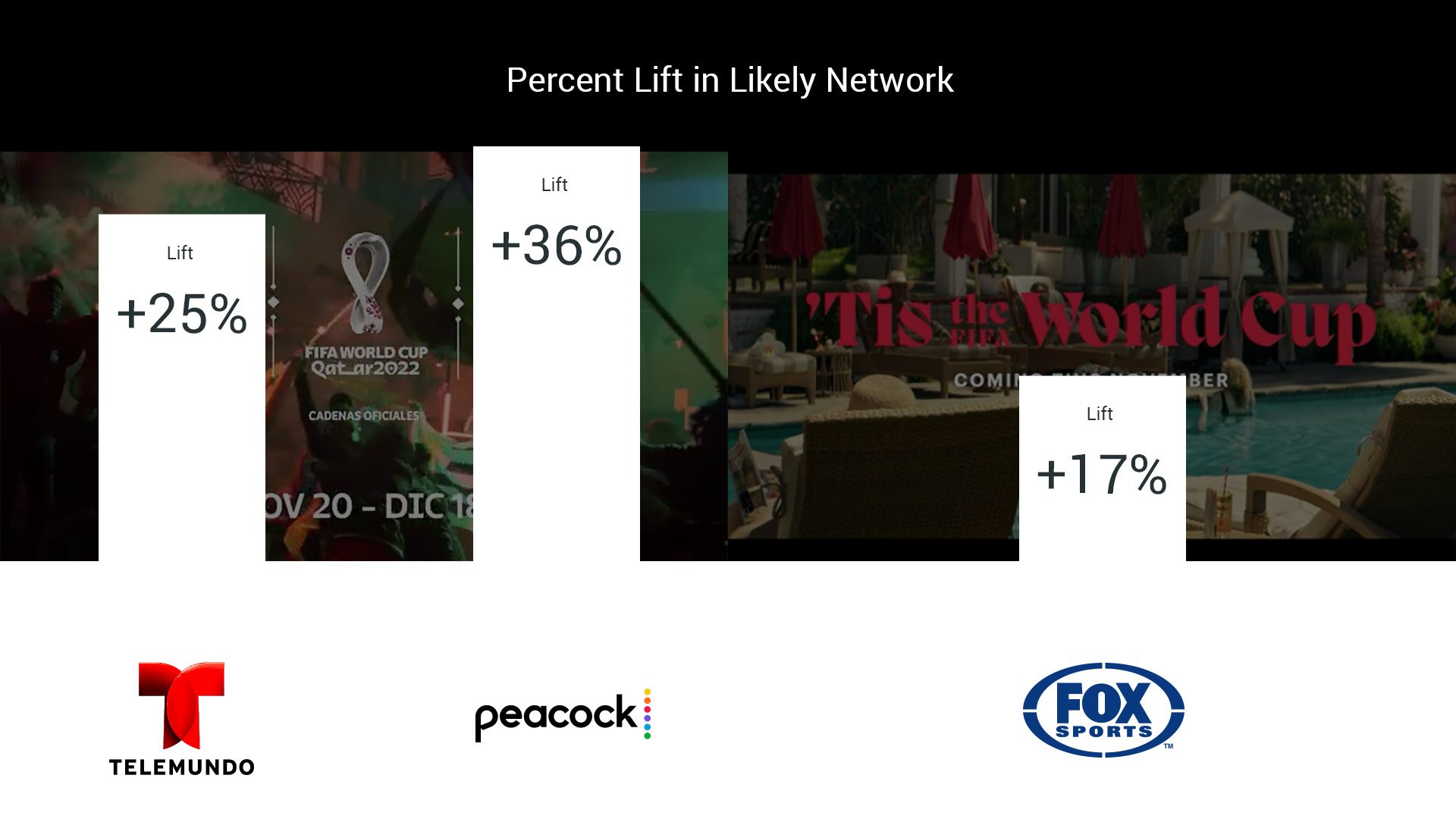 Anticipation Drives Attention
Attention spiked highest of all ads when the Telemundo commercial showed fans anticipating a player taking a free kick in slow motion, demonstrating a 10% increase in Attention in a five-second interval. Viewers likely take cues from the cues they see on screen.



Methodology
Triangulum and Realeyes tested World Cup promos using Triangulum's newly released creative testing solution, powered in part by Realeyes' PreView platform. The solution provides a holistic measurement of creatives across three key dimensions: Branded Attention, Emotional Response, and Brand Response. The solution brings consumer sentiment and response data to life through Realeyes attention metrics and AI-powered text analysis.
REQUEST DEMO
Learn first-hand how your organization can drive real business impact through attention measurement