Realeyes Enables Advertisers to Test Every Video for the Attention Economy
Global advertisers seldom test the efficacy of every video creative, often due to cost and complexity associated with traditional research methods. However, advertisers that test more have greater potential to achieve competitive advantage in the attention economy.
Realeyes, a pioneer and leader in video attention measurement, today launched the next generation of its PreView solution to test every video creative, across any audience and market, adding incremental value to existing advertising metrics.
PreView offers unprecedented simplicity, agility and scalability to advertisers seeking to better understand and improve their video creative performance through attention and emotion metrics. The PreView service is built on the most advanced facial coding technology and machine learning. That includes 20 patents and 19 pending in attention and emotion AI, including U.S. patent 10,194,213 for its "computer-implemented system and method for determining attentiveness of users."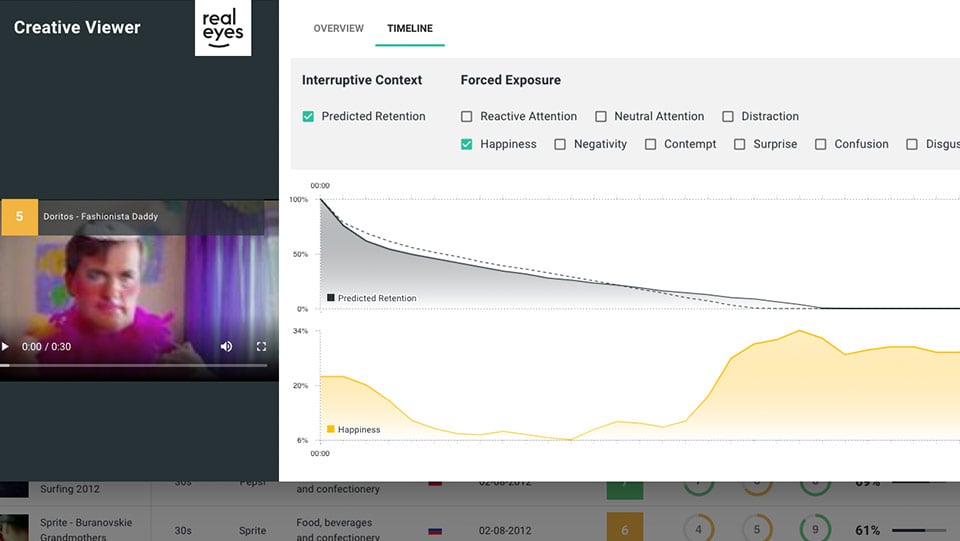 Realeyes' PreView measures the second-by-second facial expressions and attention cues of participants as they watch video from desktop and laptop computers, and mobile devices. Responses are scored based on the ability to capture audience attention in the first seconds, retain that audience, and encode the brand message through emotional engagement.
Advertisers who adopt an always-on attention testing capability can unlock sustained competitive advantage and brand growth.
"PreView returns humanity to advertising measurement by assessing real human response to ads, while bypassing many challenges associated with self-reported data and long, complex surveys," said Mihkel Jäätma, Realeyes co-founder and CEO. "More human attention in advertising equals more sales. Advertisers who adopt an always-on attention testing capability can unlock sustained competitive advantage and brand growth."

Realeyes at The ARF Attention 2022 Summit
The PreView Platform offering also provides access to creative attention norms and benchmarks based on over 50,000 video tests, spanning 62 countries and nearly 10 million participant views. It features a searchable Community Ads Vault, available to clients in October 2022, with thousands of real video test examples from dozens of industries. PreView enables advertisers to compare different video executions and audiences to understand what makes effective video creative.
The PreView offering encourages new partners to adopt systematic creative attention testing with 15 complimentary launch test credits. It also includes access to a new analytics dashboard (beta), video metrics repository and dedicated support via the Realeyes Success Team.
PreView also is available via API and other integrations for research partners seeking to embed Realeyes video attention tech into their own measurement systems and audience panels. Brands and partners can achieve volume discounts of up to 75%, creating economies of scale that allow partners to test thousands of videos systematically.
For example, Mars Inc.'s creative attention testing system, using Realeyes, scored over 1,000 creatives in about a year, across 19 markets, 30 brands and five categories. It resulted in up to 18% sales lift and $30 million in ads optimizations. Dozens of other advertisers are adopting these always-on capabilities to drive creative effectiveness at enterprise scale.
The Mars Inc. case study was a winner of this year's I-COM Data Creativity Awards, as well as a finalist and honorable mention in the ANA ECHO Marketing Data Strategy Awards. It also is a finalist and contender at The Advertising Research Foundation's upcoming David Ogilvy Awards.
About Realeyes
Using front-facing cameras and the latest in computer vision and machine learning technologies, Realeyes measures attention and emotion of opt-in participants as they watch video content online.
This empowers brands, publishers and technology platforms to inform and optimize their content as well as target the right videos to the right audiences. Realeyes' technology applies facial coding to predictive, big-data analytics, driving bottom-line business outcomes for brands and publishers.
Founded in 2007, Realeyes has offices in New York, London, Tokyo and Budapest. Customers include brands such as Mars Inc, Church & Dwight, Cleveland Golf, Hershey's and Expedia, agencies Ipsos, MarketCast and Publicis, and media companies such as Google, WarnerMedia and Teads.