PRE-GAME TACTICS
The buzz around upcoming Super Bowl LII commercials is heating up. Brands plan their Super Bowl appearance with military precision: some such as M&Ms have released teasers, while others went even further by producing a teaser for a teaser! Now, that's creative.
We've collected emotional responses of 300 US viewers watching this Skittles teaser using facial coding and emotion recognition technology to gather emotion insights on video performance.
ANALYSIS
Skittles, 'Most exclusive commercial ever made'
Skittles has made a commercial to be shown exclusively to just one person, instead of the other 110 million people who'll also be watching the big game. Their creative agency DDB said, "...the Super Bowl is the most cluttered marketing window of the year…" so the idea behind this approach is to encourage people to talk about the exclusivity of the ad as much as the ad itself. It looks like this disruptive step might already be working, as people on Twitter are keen to become friends with Marcos Menendez, for whom the ad was intended and watch it with him.
The teaser continues the quirkiness found from previous "Taste the Rainbow" commercials, one of which won the Super Bowl last year with 'Romance the Rainbow', and 'Exclusive the Rainbow' has a good chance to win again this year. Hopefully, Skittles won't push it too far as they did with their 'Mother's Day' commercial 6 months ago. So kudos to the brand and DDB as it's showing very strong results...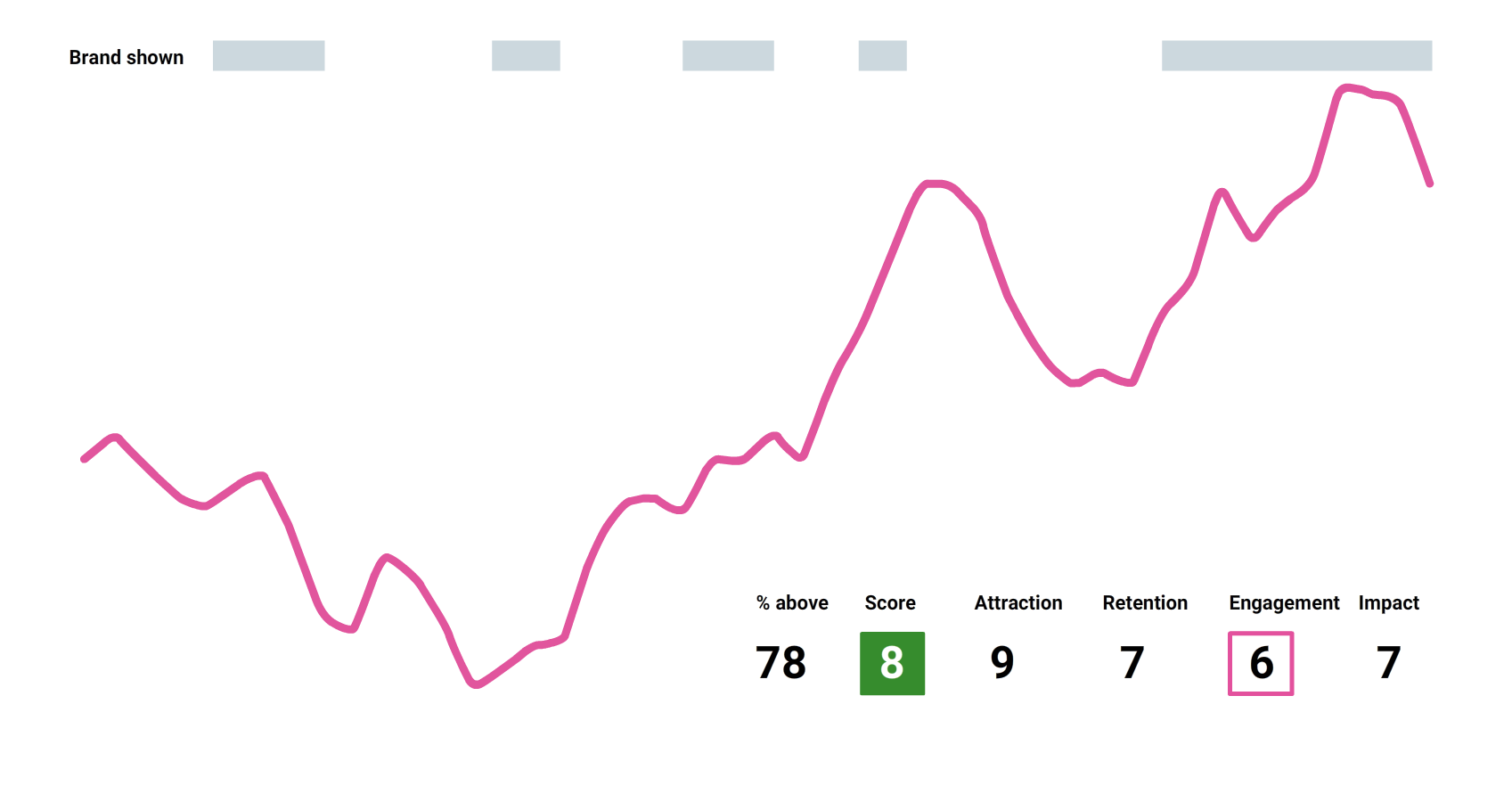 The Engagement curve increases steadily throughout the video, while attraction, retention, and impact remain strong too. The teaser gains an EmotionAll® score of 8/10, being better than 78% of the ads in our database – an impressive result for a teaser.
Stella Artois, "Taps"
Stella Artois was the first major advertiser to reveal its Super Bowl LII ad, "Taps". The 30-second spot isn't brand advertising, but an introduction to the company's partnership with Water.org. Co-founded by Matt Damon, the organization aims to provide clean water to those who need it. Super Bowl ads traditionally favor light-hearted entertainment, so it's understandable why Stella Artois would want to send its charitable message ahead of the clutter and encourage viewers to stock up on beer for the big game.
Stella Artois is one of several Anheuser-Busch beers that will advertise during this year's game and is their second appearance to date. So will Stella Artois inspire viewers to choose its beer on the night of the Super Bowl? We tested 300 US viewers across three age ranges and low to high income brackets
The emotion data shows that engagement wasn't particularly strong with an EmotionAll® score of 3 out of 10. Interestingly, viewers with an annual income under $30K and viewers aged over 50 years old were the most engaged. In-fact it was the general mid-tier income viewer that was least interested, which given the fund-raising message is worth noting. It will be interesting to see what the brand has prepared for the night of the game. Will everyone be raising a glass?