World Cup Ad Using Suspense & Humor Increased Attention by 35%
The 2022 FIFA World Cup keeps breaking audience records for the sport globally, included here in the US with the England v. US match being the most-watched soccer game ever in the US.

At Triangulum and Realeyes we aren't surprised by this given the pre-Cup buzz, including compelling TV coverage promos by FOX and Telemundo/Peacock that we tested before the cup started.
Creating the right World Cup ad is a balancing act between compelling narrative, the right amounts of branding, and enough World Cup tie-ins.
So how well did advertisers capitalize on these audiences? We tested seven World Cup ads for four different brands across consumer categories to find out. While one of the ads stood out from the pack, they all provide important learnings.
Key Takeaways
Coke's Tattoo creative, had a 35% higher attention capture and 45% higher attention retention than the other ads in aggregate.

Overly brand-focused creative strategies lose attention quicker and are therefore more efficiently executed through shorter assets. Some ads, which had good brand association but poor attention, might perform better as shorter content.


Ads that tie clear branding to engaging and evocative narratives are set up for success. Some creatives failed to tie-in their brands strong or early enough, risking a lack of brand association.


Well-known celebrities, including World Cup superstars, can have middling effects on overall results. The appearance of celebrities can stave off attention loss but waiting too long to introduce them lessens the positive impact.

Coca-Cola
'Family Stadium', 'Shave', and 'Tattoo'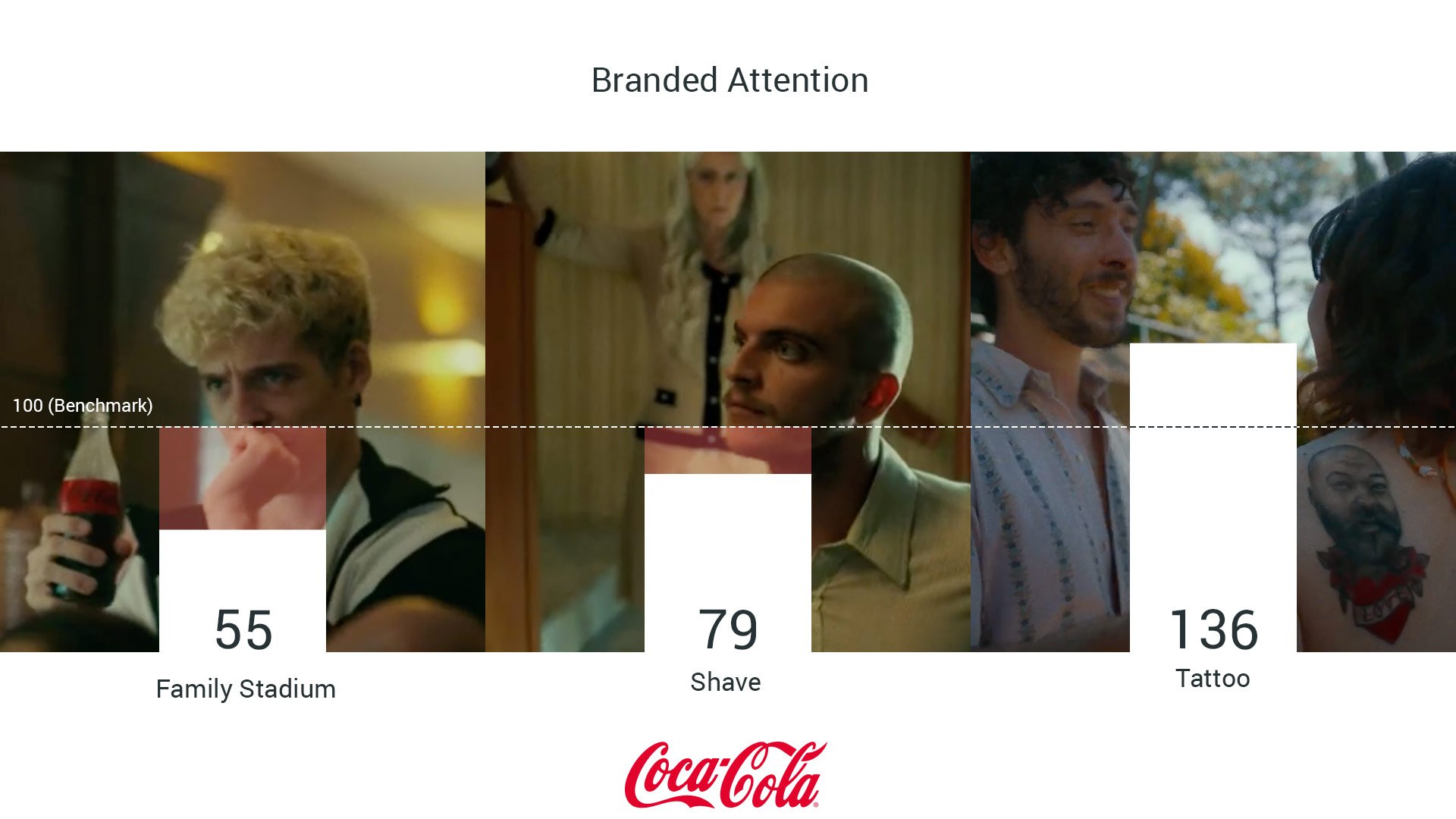 Two of the Coca-Cola advertisements followed a similar theme, where the protagonist does something unexpected to demonstrate support for his or her team, and the third showed scenes of collective enjoyment while watching the Cup at home.
While all three of the Coca-Cola spots we tested showed positive engagement with the narrative elements, emotional impact, and good brand associations, one of them, Tattoo, generated and sustained more attention than any of the other creatives in the test. It featured scenes of a young couple by a pool and a narrator saying that one of them promised to get a tattoo of her boyfriend if their team won the World Cup. The mildly shocking and humorous reveal at the end, which is both visual and narrated, is that the promised tattoo is of her ex.




The net impact was a branded attention score (which combines brand association and attention), well above benchmarks, meaning that not only were audiences engaged but the brand will get credit for that engagement. Higher than average recall of thematic and narrative elements, tied to the humorous plot, indicates that the World Cup adjacent story is what kept audiences engaged.




McDonald's
'Wanna Go to McDonald's'
The McDonald's ad focused creatively on people in different languages asking friends if they wanted to go to McDonald's. The heavy branding approach performed poorly in capturing and retaining attention yet generated above-average brand impact and lasted long enough to generate feelings of personal relevance. McDonald's could address this in a variety of ways:
Given the repetitive nature of the ad, it probably works better as a shorter ad.
The ad had a branding index score of 108 as well as relevancy of the ad's main idea at 69% (highest among the ads studied).


It also could have leveraged the World Cup tie-in more to drive greater attention. Though the ad does not retain attention, the ad performs very well with brand breakthrough and relevance, so it could be used in future campaigns.


The McDonald's ad revealed everyone's favorite fictional soccer coach, Ted Lasso, as the commercial ends, spiking positing emotions (happiness immediately spiked 50%). However, many viewers have tuned out by this time, undervaluing a potential asset for the overall ad.
Hyundai
'Goal of the Century'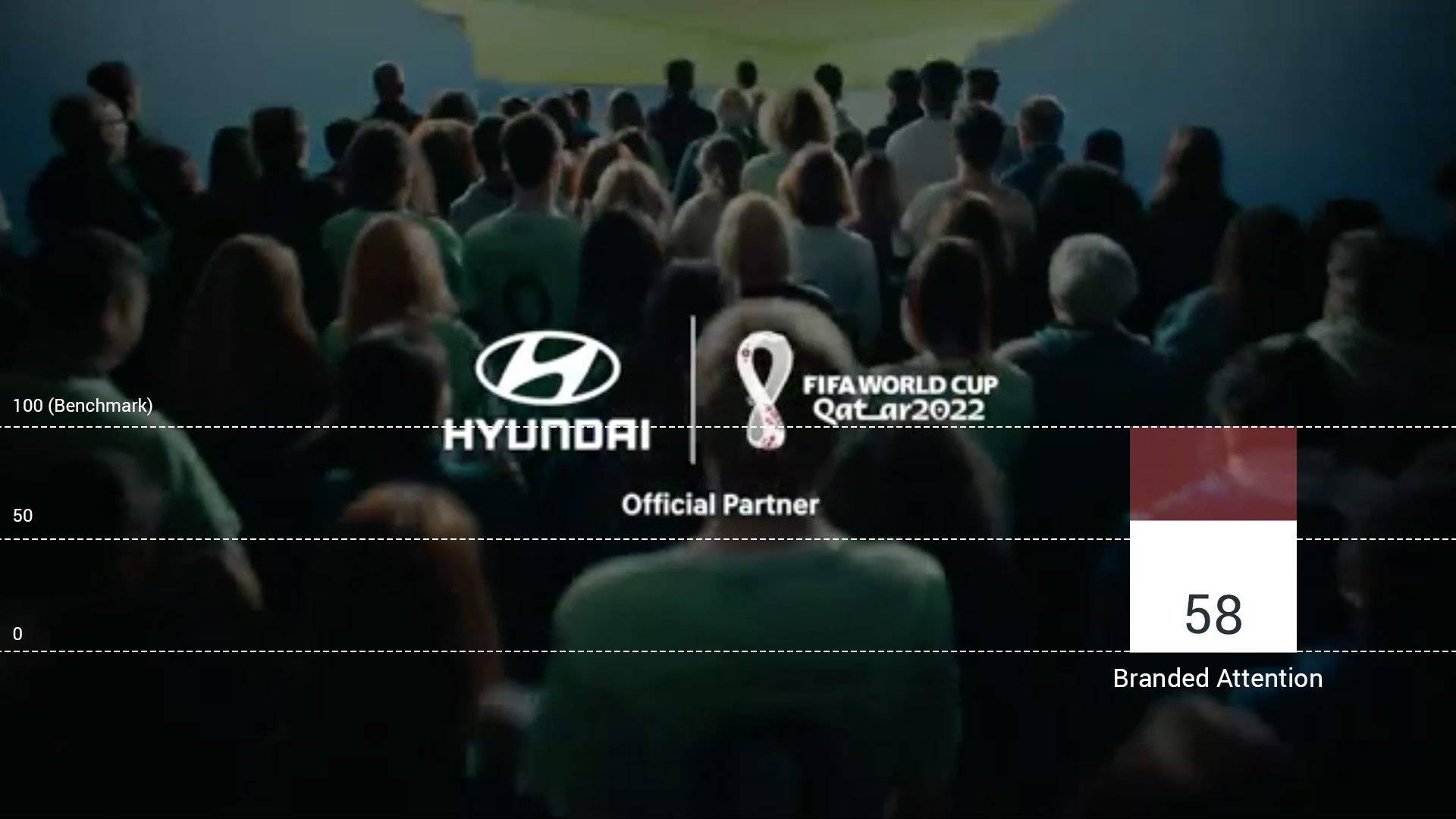 The Hyundai ad used clips of World Cup action to communicate the excitement of the game, which initially paid off producing above-average audience retention for the first 6 seconds. However, attention quality dipped, and because the brand wasn't introduced until the end breakthrough was low, leading to a below-benchmark branded attention score.
This creative strategy would also be more effective in shorter creative versions that don't require holding the audience's attention for prolonged periods prior to branding.
Budweiser
'The World is Yours to Take'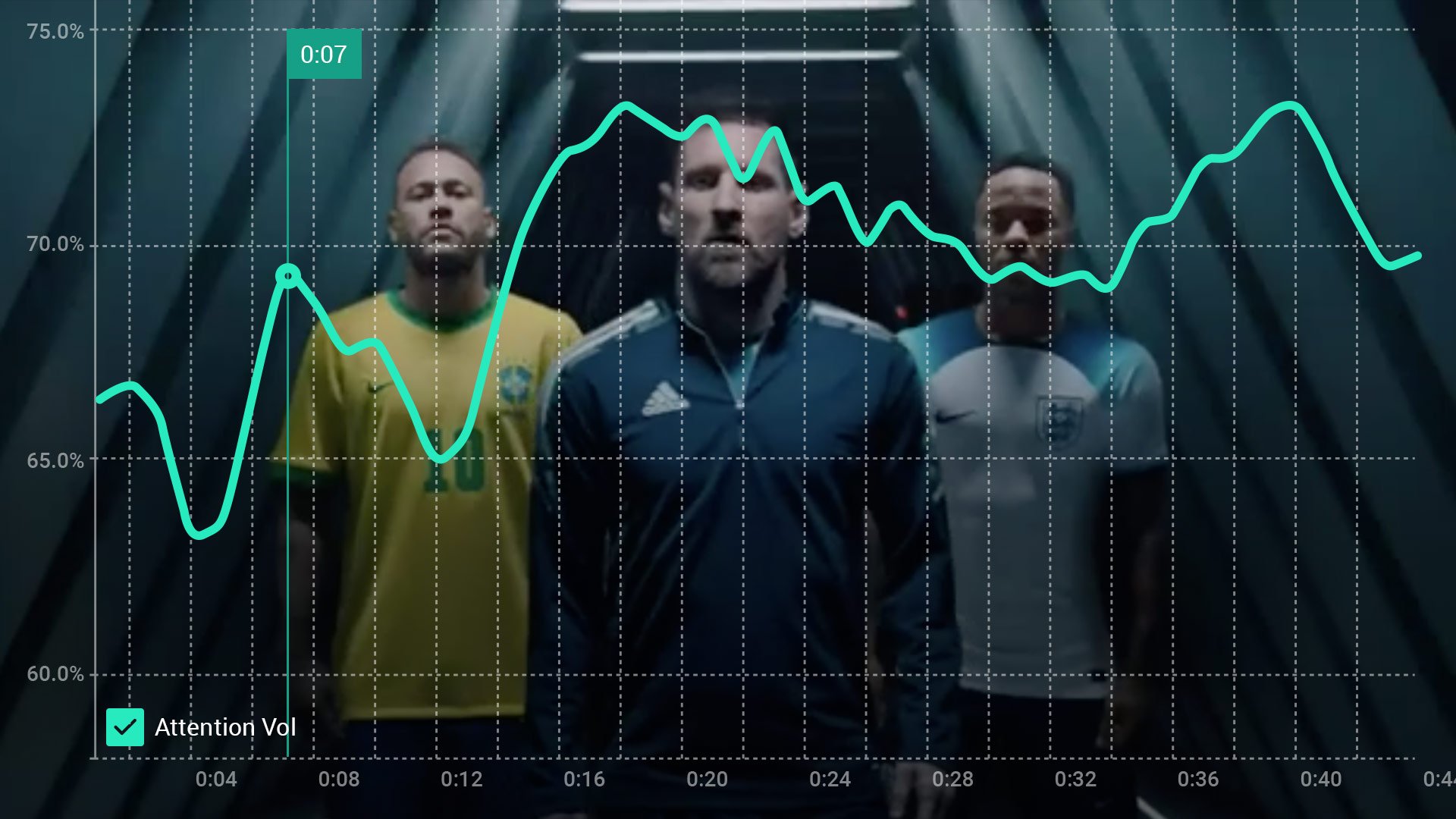 'The World Is Yours to Take' features three World Cup superstars (Messi, Neymar, Sterling). When they were on screen attention loss improved compared to benchmark.
Those athletes were introduced seven seconds into the ad; a better creative direction would be to start with them to increase initial capture.


Although the brand is extremely recognizable and there is good overall breakthrough, there is little that ties the ad to the World Cup beyond the introduction of those superstars.


Adidas
'Family Reunion'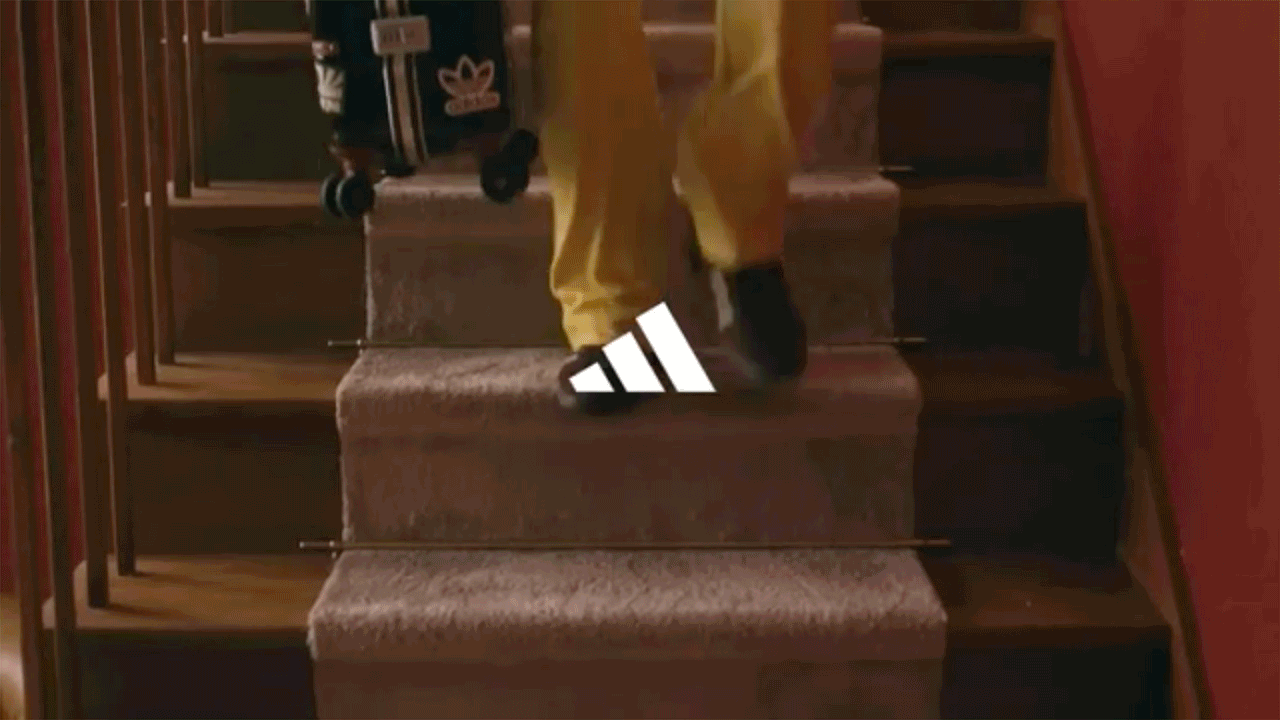 This ad features seven World Cup athletes in various humorous situations.
Despite the presence of several notable World Cup superstars, the creative did not sustain attention so well relative to benchmark expectations. Viewers are likely to churn rapidly early on.
Too much focus on the World Cup without adequate brand and category tie-ins, like the Hyundai ad, leads to missed opportunities because the brand gets lost in the mix.

Viewers of this ad had an above average focus on the sport yet had a below-average attention to the brand.




Conclusion
Studying these ads showed one ad significantly outperformed the rest because it demonstrated the passion and intensity of the World Cup, while leaning into some unexpected humor. For brands that will be advertising in 2026, they should avoid overly corporate or traditional advertising structure and try something unexpected with a quick but building payoff.
Methodology
Triangulum and Realeyes tested World Cup ads using Triangulum's newly released creative testing solution, powered in part by Realeyes' PreView platform. The solution provides a holistic measurement of creatives across three key dimensions: Branded Attention, Emotional Response, and Brand Response. The solution brings consumer sentiment and response data to life through Realeyes attention metrics and AI-powered text analysis.
Key Metric Definitions
Quality Score: a composite metric reported on a scale of 0-10 and measures a video's ability to perform in market. It includes three critical elements: Capture, Retain and Encode.
Capture: Ability to hook audience attention within the first few seconds.

Retain: Ability to maintain audience attention throughout the ad.

Encode: Ability of the audience to emotionally respond to the ad and cognize the brand message.
Attention: An indexed variable, comprised of 3 distinct metrics:
Time to first distraction

% of respondents that stay attentive for at least the first half of the ad

% of respondents showing a facial reaction consistent with finding the video interesting



Branding: % of respondents remembering the brand advertised ~2 minutes after exposure (survey)
Branded Attention:
A combination of attention metrics multiplied by the percentage of respondents surveyed that remembered the brand advertised ~2 minutes after exposure.
REQUEST DEMO
Learn first-hand how your organization can drive real business impact through attention measurement